By the exceptional standards he has set upon his return to the Premier League, Chelsea midfielder Cesc Fabregas has wilted in the second half of the 2014-15 campaign. Worryingly, it is a trend that has followed him in his last four seasons.
The former Arsenal skipper returned to these shores in a blaze of glory and immediately assumed the role of Chelsea's creator-in-chief, breaking Premier League records in the process. A relative bargain at £27m ($40m).
Before the turn of the year, the Spain international contributed to 15 Chelsea goals in the Premier League, providing 14 – including six in his first four appearances – in addition to notching one for himself.
Fabregas added another two assists in January, his last against Swansea City which saw him become the first Premier League player in history to provide 15 assists in two separate seasons and leave him just five behind Thierry Henry's all-time record.
It has all gone flat since then, though. Fabregas is without a goal or assist in any competition since 17 January – nine games, seven of which he has started – and his performances have also lacked the astonishing verve we saw in the first half of the campaign.
Statistics produced by Opta reveal this is familiar territory for the 27-year-old midfielder. During his penultimate season at Arsenal, the Spaniard was involved in 19 goals before the turn of the year, contributing to nine in the second half.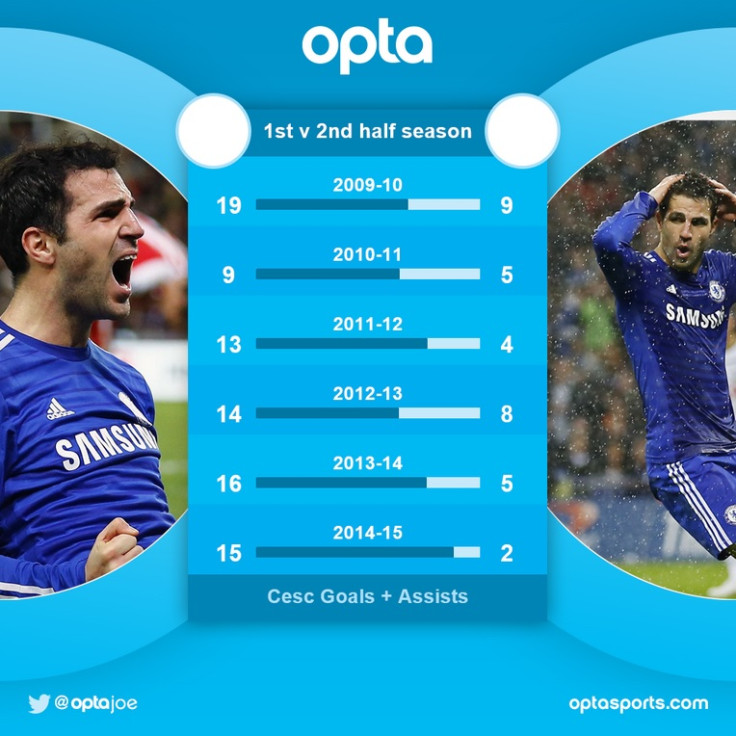 His contribution noticeably dropped off in his final campaign in north London, during the 2010-11 season, and again upon his return to Barcelona. In his first season back at the Nou Camp, he scored or assisted 13 before 31 December, with just another four to follow in the rest of the campaign.
His final season in Cataluña last term produced his most dramatic drop off. Having scored or assisted 16 in the first half of the season, only five more followed.
Having left most of Europe in his wake earlier in the season, some are now beginning to catch up. Fabregas's haul of assists stands at 16 for the season. Former Chelsea outcast-turned Wolfsburg dynamo Kevin de Bruyne has almost caught up with him, now boasting 15 Bundesliga assists to accompany his eight league goals. Barcelona Lionel Messi, meanwhile, has lifted his assist tally to 14 on top of his 30 league goals.
While the Spaniard's performances over the past two months have not been poor, they have lacked the sparkle that saw him become arguably the most important player behind Chelsea's title push this term.
With Chelsea's focus now solely on the Premier League, Fabregas has 10 games to buck this trend.