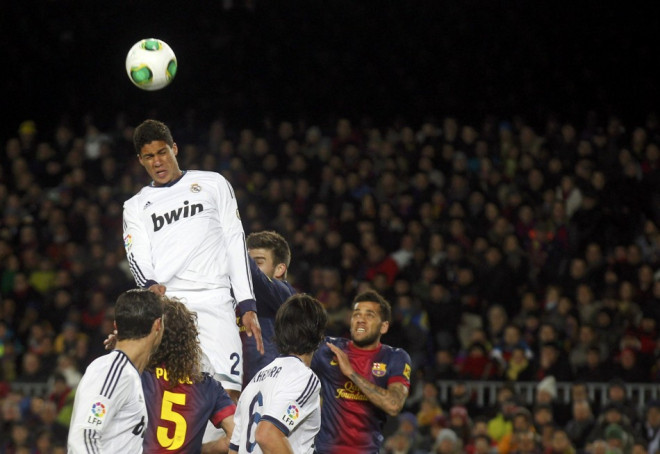 Chelsea's hopes of luring Raphael Varane, Real Madrid's centre-back away from the Santiago Bernabeu have been all but extinguished, with manager Carlo Ancelotti claiming that the young defender has a long-term future in La Liga.
Recent reports claimed Chelsea boss Jose Mourinho was keen on a reunion with Varane at Stamford Bridge and was even considering meeting his £25m release clause.
Those speculations increased earlier last week, after the Portuguese manager revealed his affection for Varane, saying he was the best young centre-back in the world.
However, Real Madrid boss Ancelotti has urged Mourinho to forget about signing Varane, claiming that his future at the Santiago Bernabeu was safe.
"Varane is the future of Real Madrid. He has everything to succeed. he is young, he is brave," Ancelotti said in an interview with French radio station RMC.
"He has all the skill to be the best defender in the world. Unfortunately, he has had injury problems this year. But he recovered well and his knee issues are now solved. I told him to be careful but the surgeon says he is set to play regularly again. I think he played very well with France last Wednesday (in the friendly against Holland)."
Los Blancos signed the French international defender in summer 2011 after paying Lens £8m to secure his services. The 20-year-old impressed Mourinho quickly, becoming a regular player even ahead of Sergio Ramos and Pepe in the Real Madrid starting line-up.
Chelsea signed Varane's compatriot Kurt Zouma as a long-term replacement for John Terry during the latest transfer window. However, with David Luiz's future at west London uncertain the Blues may need another defender to partner Gary Cahill and John Terry next season.
Nevertheless after Ancelotti's rebuff it looks like Mourinho would have to look somewhere else.