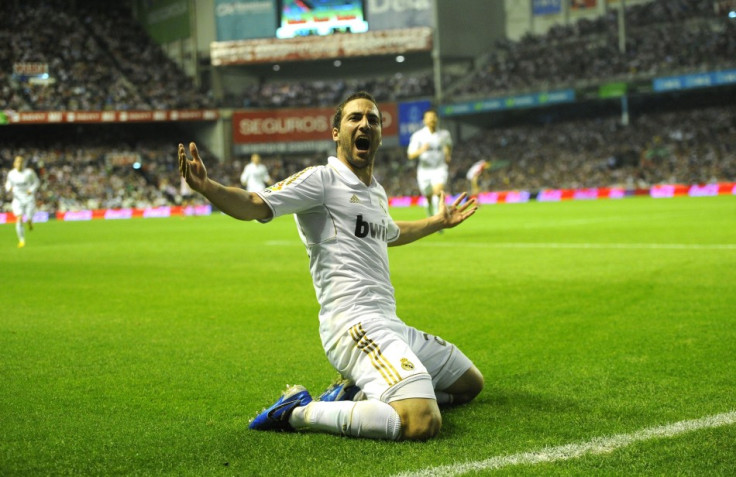 Spanish champions Real Madrid's Argentine striker Gonzalo Higuain has once again been linked with a move away from the Santiago Bernabeu during the forthcoming summer transfer window. The 24 year old has repeatedly admitted he is unhappy with his position at the capital club and his lack of playing time compared to team mate, French striker Karim Benzema.
An earlier IBTimes UK report suggested there was considerable interest in the forward, who has scored 103 goals in 267 appearances for Madrid since he moved from hometown club River Plate in 2006, for a reported €13mn fee and should he choose to move ahead of next season, the interested clubs include Italian Serie A champions Juventus, French Ligue 1 big spenders Paris St Germain (PSG) and Chelsea.
A more recent report, on ESPN, suggests Higuain has refused to comment on speculation he will remain with Madrid for next season, increasing, therefore, talk he might force a transfer and bidding war.
"It was a tough year," he has been quoted as telling Spanish newspaper Marca, "When you don't play, you suffer, but after the hard times it ended on a high note with our title win."
"Honestly, I did not have many opportunities to play. But I am happy that we have won La Liga. It is harder for a striker not to play, that is the truth. Even more so because I live for this. When I am not playing, I suffer. I have come to Argentina to rest, we will see what happens. This was a very tough year for me," the player was quoted as saying in a Goal.com report.
The writing on the wall seems clear and unless Madrid boss Jose Mourinho can convince Higuain of more first team football next season, Madrid look set to lose their second highest goal getter in the league this season. That fact - that Higuain has actually outscored Benzema by 22 goals to 21 in the league, seems to have been overlooked by the club.
Mourinho, meanwhile, has steadfastly refused to even countenance the possibility of Higuain moving away, maintaining that he expects to start next season with both Benzema and Higuain at his disposal.
"Higuain is staying here. He will stay at Madrid because I don't want him to go. He has an excellent contract here that runs for many more years. Even if clubs offer 40, 50 or 60 million Euros, we will not sell him. My two strikers for next season will be [Karim] Benzema and Higuain," the Portuguese tactician said, in a Daily Mail report which suggested Chelsea were readying a £35mn bid for the player.
The manager's words, however, do not seem to have made much of an impression on Juventus. According to an ESPN report, the Italians have begun talks with the player's brother and father over a possible move. There are also suggestions, reported earlier by IBTimes UK, Higuain has been in contact with national team mate Javier Pastore, who plays for PSG, for information on the French domestic league, leading to speculation he may move to Paris.
While Higuain's future remains unclear, the fact that the player has not definitely ruled out a move and continues to express his disappointment at the present situation is not good news for Mourinho, who will certainly not want his star striker to leave. Higuain is, in addition, a fan favourite at the Bernabeu and received a standing ovation when he was substituted during Madrid's last league game of the season - a 4-1 win at home against Mallorca.
"I was thrilled that 80,000 people were asking me to stay. It was spectacular. I was thrilled, no question," he later confessed to ESPN.
The question then - was the ovation a farewell to one of the Bernabeu's favourite sons?