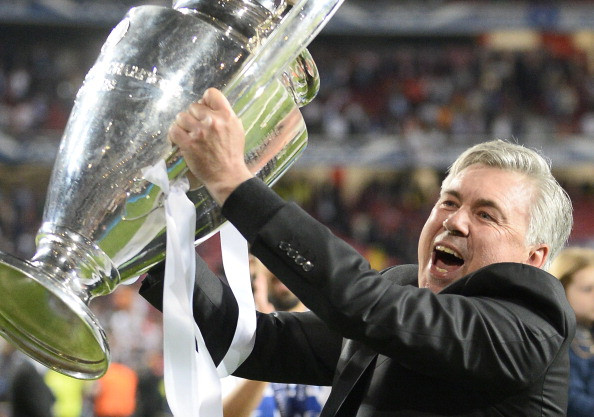 Real Madrid boss Carlo Ancelotti has responded to Gareth Bale's critics, reminding them the former Tottenham hero scored crucial goals in both the Champions League and Copa del Rey final last season.
The Wales international has been under scrutiny in Spain since his £86m world-record move from White Hart Lane to the Santiago Bernabeu in the summer of 2013.
Even though Bale looked to silence the doubters at the end of last season with a number of important goals, his critics in Spain have remerged after Real Madrid had their best performances of the season so far against Liverpool and Barcelona while the Welsh attacking player was out of action due to an injury.
Many pundits and supporters in Spain has claimed the Champions League winners play better without the ex-Premier League star and a recent pool by Marca, Spain's biggest sports newspaper, revealed the majority of its readers prefer Isco to Bale in the starting line-up.
But Ancelotti once again backed Bale during the press conference ahead of Real Madrid's Copa del Rey game against Cornella on Wednesday 29 October, suggesting he will regain his place in the line-up ahead of Isco once he recovers from injury.
"Bale is important. I think some people have forgotten he scored in the finals of the Copa del Rey and the Champions League," Ancelotti said, according to AS.
"There is no guaranteed starting 11 at Real Madrid and we have a very competitive squad. I can only choose 11 players, we have many games to play and it's something I always have to give plenty of thought."
Ancelotti revealed Bale is expected to return to action for the Champions League game against Liverpool next week.
He said: "Bale has had a small muscle injury and whilst it's a strange one, he's recovering well and I think he'll be available next week for the match against Liverpool."
Meanwhile, the Real Madrid manager also sent a critical message to Sepp Blatter after the Fifa president suggested Bayern Munich 'keeper Manuel Neuer should win the Ballon d'Or this year ahead of Cristiano Ronaldo.
He said: "It never fails to amaze me the things he [Blatter] says, but what can we do about it. It seems the Fifa president is unable to keep his mouth shut. It's a subject we're always talking about and whilst there was competition from players like Messi last year, there's not much thought needed this time.
"It's the year of Cristiano, as he's been scoring lots of goals and winning important titles, which means there's no doubt he should win the Ballon d'Or. These words [of Blatter] don't make much sense."