Former Tottenham Hotspur star Gareth Bale is once again under fire at Real Madrid after a recent poll by Marca, the biggest Spanish sport newspaper, revealed the majority of its readers prefer Isco to the Wales international in Carlo Ancelotti's line-up.
Isco has taken advantage of Bale's latest injury to regain a place in the starting XI, proving his worth during both Real Madrid impressive victories against Liverpool and Barcelona.
Supporters and pundits have lavished praise on the Spaniard for his recent performances, claiming Real Madrid play better with him than with Bale as he works harder than Bale and provides much more balance to the team – as Angel Di Maria used to do before moving to Manchester United.
With Cristiano Ronaldo, Karim Benzema and summer signing James Rodriguez unmovable up-front, may Isco lose his place in the starting line-up when Bale recovers from an injury.
However, when questioned whether Ancelotti should use Isco or Bale in his line-up, more than 80% (around 30.000) of Marca readers vote for the Spaniard - with the former Spurs hero getting less that the 20% (around 7.000) of the votes.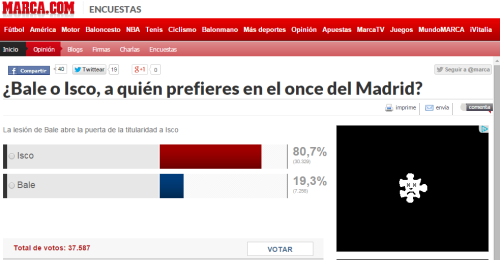 The Wales international scored 22 goals in his debut campaign at the Santiago Bernabeu - including crucial strikes in both the Champions League and Copa del Rey finals - and he has already netted four and provide three assist in seven La Liga appearances this season.
However, he is struggling to conquer the hearts of Real Madrid supporters.
Bale has been made the scapegoat of a number of Real Madrid defeats since his £89m move to Los Blancos and he is under scrutiny even while he is not playing.
But the Wales international still has the confidence of his manager, who recently claimed whenever he is fit, Bale will be in his starting line-up, even ahead of Isco.
"Of course, when he is ready, he will play. If Bale is fit, he will always play. We just can put 11 players and Isco understands that," Ancelotti said.
"Bale picked up an injury last week and he won't be involved. It's unfortunate because he's one of the best players in the team. His first season here was fantastic but it wasn't easy. He feels good in the team now and he'll progress on last year's performance I'm sure."