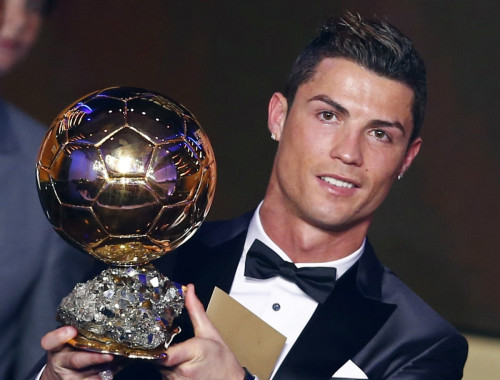 Real Madrid forward Cristiano Ronaldo has ended Lionel Messi's reign as the world's best player by claiming the Fifa Ballon d'Or prize in a ceremony in Zurich.
The award voted for by managers and captains of each national team as well as journalists across the world saw Ronaldo dethrone Messi and also finish ahead of third placed Franck Ribery.
Ronaldo scored 66 goals in 58 appearances for club and country in 2013 as Real Madrid finished second in La Liga, reached the semi-final of the Champions League and the final of the Copa del Rey.
"First of all I have to say a great thanks to all of my team-mates with the club and the national team," a teary Ronaldo said. "Without all of their efforts this would not have been possible. I am very happy, it is very difficult to win this award.
"Everybody that has been involved with me on a personal level I have to thank. My wife, my friends, my son. It is a tremendously emotional moment. All I can say is thank you to everybody that has been involved."
A hat-trick in a play-off second leg against Sweden in Stockholm, one of eight last year, helped Portugal qualify for the 2014 World Cup.
After years of playing second fiddle to Messi, Ronaldo claims his second career world player of the year award having previously claimed the prize in 2008 while playing for Manchester United.
The 28 year old had for years claimed the Fifa voting system was the reason behind Messi's four successive wins and victory over the Argentine quashes such accusations.
The voting deadline for the 2013 award was extended after Fifa reported that only 55% of voting papers had been submitted however governing body officials claim the extension hasn't altered the result.
The award comes just eight days after the passing of Portuguese legend Eusebio.