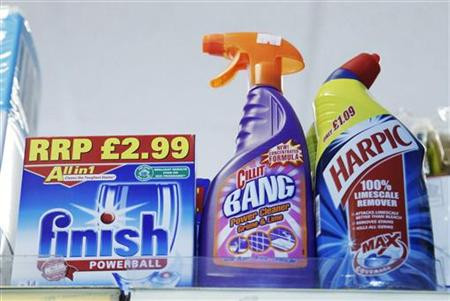 Shares in Reckitt Benckiser were down on the FTSE 100 in morning trading despite posting a rise in net income of 23 per cent in the second quarter of the year to £380 million.
The group, which owns brands such as Vanish, Clearasil and Finnish, said that its net revenue in the period rose 10 per cent to over two billion pounds, while operating profit jumped 21 per cent to £503 million.
In the half year net revenue increased seven per cent to over four billion pounds, operating profit increased 18 per cent to £964 billion while, net income increased 19 per cent to £728 million.
The group said that its half year results were in line with its targets for the full year and added that net cash at the end of the period had risen from £220 million at the end of 2009 to £577 million.
The group said it would be increasing its interim dividend by 16 per cent to 50.0 pence per share.
Bart Becht, Chief Executive Officer of Reckitt Benckiser, said, " This performance benefited from excellent growth in Developing Markets, and the success of new Powerbrand product initiatives such as Lysol No Touch and Air Wick Aqua Mist.
"We are re-iterating our full year targets for the Group ex-RBP assuming no change in current market conditions, being net revenue growth of +5% and operating profit growth of +10% (both at constant exchange). For the total Group, we are confident of delivering another year of good growth in 2010, notwithstanding potential generic competition to Suboxone in the U.S.."
By 09:14 shares in Reckitt Benckiser were down 1.47 per cent on the FTSE 100 to 3,287.00 pence per share.