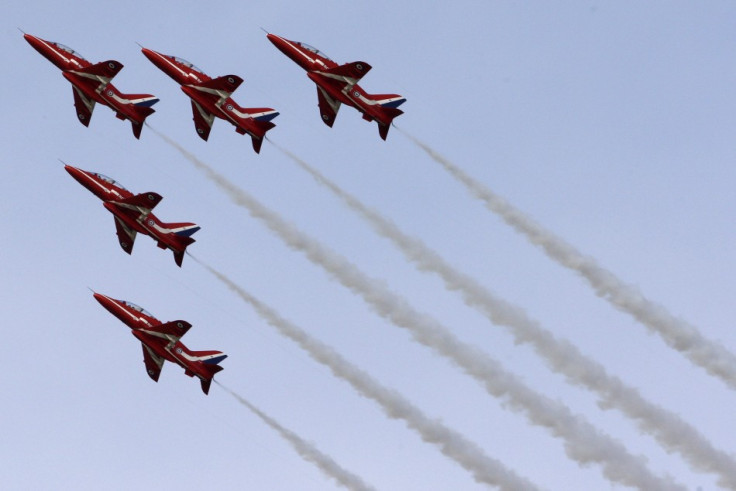 Training flights in aircrafts fitted with ejector seats similar to the one in which a Red Arrows pilot was killed have been suspended.
The Ministry of Defence (MOD) has grounded all flights after the death of Flight Lieutenant Sean Cunningham, 34, at RAF Scampton in Lincolnshire.
The temporary ban, which was decided on Tuesday, will see all non-essential flights for aircraft such as the Tornado ground attack aircraft and the Hawk T1s, which are used by the Red Arrows aerobatic team.
"The safety of our crews remains our paramount concern," said the Mod.
"All non-essential RAF flying on aircraft fitted with a similar ejector seat to the Hawk T1 has been temporarily suspended."
The suspension was "pending further investigation and purely as a precautionary measure," according to the MoD.
The MoD did say that tornadoes and aircraft operating in Afghanistan will still be in operation and will not be affected by the ban.
"Essential operational flights like those in Afghanistan will continue, but any training sorties that are deemed non-essential have been suspended for now," said a source.
The Hawk T1, which Flt Lt Cunnigham was flying when he crashed on the ground at RAD Scampton, was fitted with a Martin Baker Mark 10b ejector mechanism, regarded by the military as one of the best around.
Flt Lt Cunnigham's plane was still on the ground when his seat ejected 200 feet into the air before plunging to the ground.
Paramedics treated the 35-year-old before he was airlifted to hospital where he died shortly afterwards.
His family issued a statement saying: "Since his childhood Sean had dreamed of flying fast jets in the Royal Air Force; through his hard work and dedication he achieved that dream, and the pinnacle of his career was to fly in the Red Arrows."
The accident happened less than three months after another Red arrows pilot, Flt Lt Jon Egging, 33, was killed after jet crashed at an air show in Dorset.
Speaking in the House of Commons, Prime Minister David Cameron said: "I'm sure the hearts of everyone in this house go out to the family of the pilot who was killed in this terrible accident and it comes on top of a second accident that happened in the Red Arrows.
"This has obviously been a very tragic time for something that the whole country reveres and loves and I know that their home to them in Lincolnshire is extremely important. We must get to the bottom of what happened."
Last year the RAF suspended its fleet of 126 Hawk T1 jets after faults with the seats.