Crystal Palace supporters are being investigated by police for vandalising their own team's coach, which they believed belonged to their weekend Premier League opponents, Middlesbrough. Fans sprayed red and blue paint across the side of the vehicle along with the words "Crystal Palace FC" in an act of criminal damage which will cost the club £40,000 ($50,000).
The Eagles' squad was forced to seek alternative transport to Selhurst Park for the match, which saw Patrick van Aanholt's goal secure all three points in a key game in the fight to avoid relegation. Palace's assistant head groundsman, Dean Waters, wrote on Twitter: "£40,000 worth of damage on our coach thinking it was the Boro coach. Nice one!" Waters later changes his privacy settings to protect the message.
The south London club have confirmed the authorities have been notified of the incident, with an investigation ongoing. Palace refused to comment when asked about potential punishment for supporters found to have committed the offence, when contacted by IBTimes UK. A club statement read: "The team bus was covered in graffiti with the words 'Crystal Palace' overnight on Friday ahead of the game. Police have been informed."
Victory temporarily hauled Palace out of the relegation zone, prior to Leicester City's 3-1 win over Liverpool and was just their second league win since Sam Allardyce's appointment in December. The result followed two weeks without a game which allowed the squad to rest ahead of the final third of the campaign.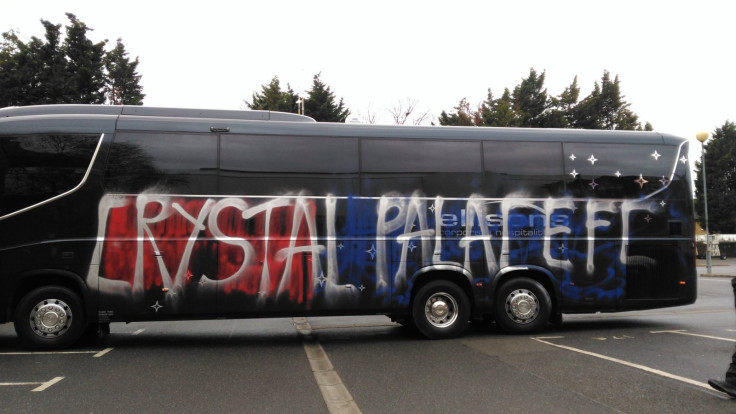 "Our two-week break has worked in our favour," Allardyce said, according to the club's official website. "In that time we have worked very well with the players and we've had a lot of thinking time as well as training, and a lot of the new players can mingle in with the lads. The performance in the first half warranted our victory today with an excellent goal from Patrick who has a very god habit of scoring goals as a full-back.
"It's an important win, goal and clean sheet for us because we know that when Middlesbrough decide to launch it forward in the last 10 or 15 minutes that we have to show a lot of resilience and we did that and didn't give them many opportunities to equalise which would have been a blow for us today."