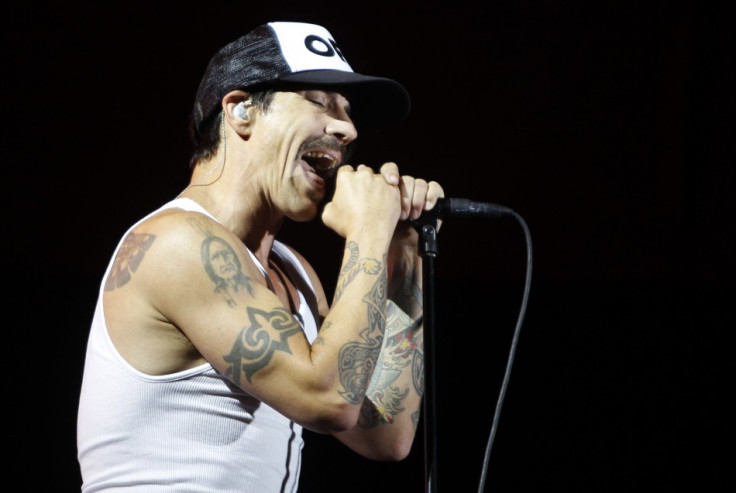 Red Hot Chili Peppers frontman Anthony Kiedis wants fans to know that he was not happy after canceling the band's show at KROQ's Weenie Roast Festival in Irvine, California, due to his sudden illness. Kiedis was rushed hospital after suffering complications from an intestinal flu on 15 May, just ahead of the band's appearance at the music festival
Kiedis said he is feeling a lot better now. "Not great, but good," he admitted. "I think I had to get sick to take a look at myself and get to the causes and conditions of my overall health," Kiedis told ET Canada.
"So it turned out to be a good thing, albeit painful and very sad to have to cancel shows -- we don't really do that. I'd rather play deathly ill than not [play] at all, but in this particular instance I was starting to go down to the ground. I got rushed to the hospital, got some help and now I get to figure things out," he said.
Kiedis explained that the cause for him falling sick was due to an inflammation in his gut, which got complicated by the recent virus and existing scar tissue from a previous hernia operation.
"That becomes an incredibly painful situation where you get a fever and pass out. I had to be pumped clean in the hospital... Lo and behold, I'm on the mend, but it's a process," he said.
"I think it was a slow news day... When I opened my phone and saw I was on the news, I was like, 'Everything in the world must be okay in the world today if that's what's making the news'."
He also told a story of a teacher who inspired him to live by the motto: The show must go on. "That's been my philosophy for life – until you just fall over and can't stand up to play."
The band is gearing up for a summer tour and will be releasing their 11th studio album titled The Getaway on 17 June.