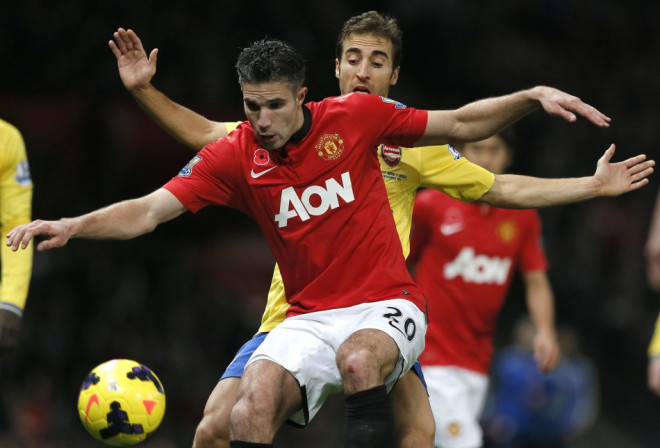 Former Liverpool midfielder Jamie Redknapp claims he would not be surprised if Manchester United allow Robin van Persie to leave Old Trafford in the summer.
The former Arsenal striker has been linked with a move away from United as reports suggest the Dutchman is unhappy under David Moyes. The Scot replaced Sir Alex Ferguson last summer and under him the striker has failed to replicate his debut season's form.
The Mirror claims United will allow Van Persie to leave Old Trafford at the end of the season if they manage to sign Edinson Cavani from Paris Saint-Germain. Should the Dutch international leave the club in the summer, Redknapp claims he will not be surprised by the departure of the "sensational" player.
"At 30, Van Persie is not getting any younger and, if he is still not happy by the summer, I wouldn't be surprised if United decide he is surplus to requirements," Redknapp told the Daily Mail.
"I am not suggesting he is a bad player. He is a sensational footballer and he was No 7 in my list of the top foreigners to grace the Premier League."
Ferguson signed Van Persie from Arsenal in the summer of 2012. In his first season, the striker played a crucial role in guiding United win the league title. He was the top scorer in the league last season with 26 goals.
Redknapp believes Wayne Rooney earning a new contract shows the England international is the main man at Old Trafford under Moyes and not Van Persie.
"It's amazing how quickly things change in football. Last season Robin van Persie was Manchester United's hero but now he looks like he's had his nose put out of joint," the former Liverpool midfielder said.
"I've seen it before with players who are the main man and all of a sudden somebody takes their place. It seems to affect strikers more often because they have a greater sense of hierarchy."
"Last season, it was all about Van Persie. He was Fergie's golden boy but under Moyes it's been a different story. United have been in poor form and so has the Dutchman. Wayne Rooney's new contract shows how much the club value him and, little by little, you can see the confidence seeping away from Van Persie," Redknapp concluded.