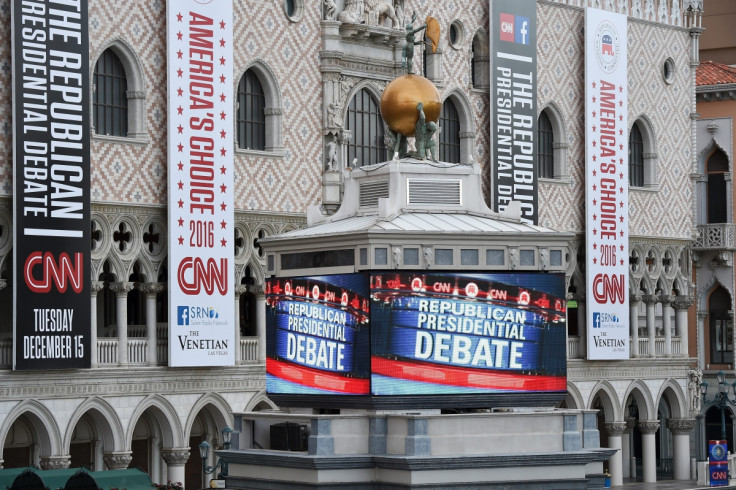 The fifth Republican debate, which will be hosted by CNN from Las Vegas, Nevada, will air live on 15 December. Nine GOP candidates will appear during the main debate, with another four appearing in the earlier undercard debate. Louisiana Governor Bobby Jindal will not participate in either debate after dropping out from the race shortly after the last debate.
The main debate, moderated by Wolf Blitzer, will include: real estate mogul Donald Trump, Texas Senator Ted Cruz, retired neurosurgeon Ben Carson, former Florida Governor Jeb Bush, Florida Senator Marco Rubio, New Jersey Governor Chris Christie, businesswoman Carly Fiorina, Kentucky Senator Rand Paul and Ohio Governor John Kasich. The nine contenders were able to meet at least one of the following criteria in recent polls: earning at least 3.5% support of voters nationally, 4% in Iowa or 4% in New Hampshire.
Prior to the prime-time event, former Arkansas Governor Mike Huckabee, former Pennsylvania Senator Rick Santorum, South Carolina Senator Lindsey Graham and former New York Governor George Pataki will participate in the undercard debate. Candidates invited to the undercard debate were required to have an average of at least 1% in four of the polls falling in the following three categories: national, Iowa or New Hampshire.
CNN's Chief Political Correspondent Dana Bash and Salem Radio Network talk show host Hugh Hewitt will act as questioners.
When and Where
The undercard debate will begin broadcasting at 6pm EST/11pm GMT. The main debate, however, will begin broadcasting at 8.30pm EST/1.30am GMT. Formatting of the debates has yet to be revealed by CNN, however the network did announce that the web stream of the debate will last until 11pm EST/4am GMT.
For the fifth Republican bout, the candidates will head to The Venetian hotel in Las Vegas, Nevada. The debate is the last GOP debate of 2015, just weeks before the Iowa caucuses.
How to Watch
CNN and Salem Radio will co-host the final Republican debate of 2015 and will make it available in several formats. Both debates will air live on CNN and stream online on CNN.com. According to CNET, the network will also make the debates available through mobile live stream on its mobile app. Users will need to select "Watch Live TV" on the mobile app to watch on their phones. Those who wish to listen to the debates instead can tune in to any Salem Network broadcast across the US.
The sixth Republican debate and first presidential primary debate of 2016 will air on 14 January in South Carolina at the North Charleston Coliseum and Performing Arts Center. It will be hosted by Fox Business Network.
IBTimes UK will be live blogging the debates beginning at 6pm EST/11pm GMT.