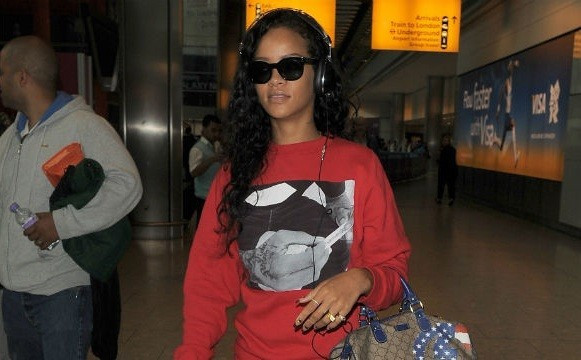 Pop star Rihanna has sparked fresh controversy after stepping out in a jumper said to glorify cannabis use.
The 24-year-old star sported the provocative top as she walked through Heathrow airport.
RiRi, whose wild antics continue to make headlines, has made little secret of the fact she smokes marijuana.
Earlier in August, she was snapped wearing a T-shirt of a woman rolling a joint in six easy steps.
Her fashion statement comes as new research revealed that teenagers who regularly smoke cannabis risk long-term damage to their mental health.
The online community were divided after Rihanna's stance.
One commentator wrote: "omg WOW where can i get that top?! so cool! wow seriously omg so edgy, so hardcore this girl so unique! Wow."
But another said: "I think she's very badly advised. Needs to remember she has a lot of very young fans who follow her every move."
Rihanna is in London to discuss the fashion line she is designing for high-street chain River Island.
Ahead of her trip to the UK, the fashionista told fans on Twitter: ''Off to do some River Island business #fashawn #takeof.''
Speaking about the collaboration, River Island's CEO Ben Lewis said: "We are thrilled to be collaborating with Rihanna and to be the first fashion brand to work with her in this way."
"Rihanna is a style icon; from street to chic she enjoys her fashion."
Rihanna and Coldplay to Play out London 2012 Paralympic Games