Concept cars are renowned for including features that will never actually appear in your local showroom. No stranger to pushing the boundaries of concept car design, Rinspeed has revealed an autonomous two-seater sports car with its own drone – and a landing pad on the back.
The Etos will be shown off at the CES technology show in Las Vegas in January 2016. More of an ideas company than a firm that produces cars we can buy, Switzerland-based Rinspeed says the car will not be fully autonomous; instead, it will include an autopilot feature that learns over time. Hopefully it does not take long to learn where the brake pedal is.
When switched to self-driving mode, the Etos's steering wheel folds away and retracts into the dashboard. Rinspeed also claims the windscreen slides closer to the two occupants, giving them a better view of the road ahead while the car takes control.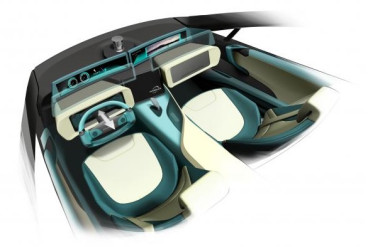 But it is with the drone where Rinspeed has truly taken a leap into the future – and an unlikely future at that. The company justifies the need for a drone and landing pad on the back of a sports car by saying: "The many benefits this offers are evident: For example, it could fetch a bouquet of flowers the driver ordered online and even deliver it directly to the lucky recipient."
We are not really sold on that one, Rinspeed, given the terrible battery life of drones small enough to land on the deck of a two-seater, and the general illegality of letting a drone fly off to the shops without you. The company added: "[The drone] could also takes a video of the wild ride on the favourite fun road and stream it live to friends."
'Feels like magic'
Vaguely more plausible, this one. Drones that follow their owners via a GPS tracker already exist and are used for shooting surfing videos, but cars are rather faster than surfboards – and consumer drones, for that matter – so unfortunately this also reads a bit like a fairy tale. Nevertheless, Rinspeed continues to say how the Etos will be finished in a material "still completely alien to car designer" which feels like "magic".
But let us not be too harsh. Take the drone and autonomy away, and the Etso, which resembles a Lamborghini/McLaren mashup, actually looks brilliant. Will this car ever become a reality? We doubt it. We will fight to have a closer look at CES? Of course.