Rio Ferdinand believes the current Chelsea team are reminiscent of the Manchester United side he played for alongside Cristiano Ronaldo.
Antonio Conte's side are on course to win the Premier League after requiring just two more wins against Middlesbrough and West Brom.
A possible double is on the horizon as well with an FA Cup final looming against Arsenal which would greatly exceed expectations in Conte's debut season with the club.
Ferdinand thinks Chelsea's counterattacking style of play is what has led to their success this season and has likened the league leaders to his old side when Ronaldo was playing and slowly becoming a world star.
"There is no one style of play guaranteed to win you the Premier League but counter attacking has been their key, rather like it was for Leicester last season," Ferdinand wrote in his Times column. "In March, Eden Hazard scored a goal in Chelsea's 2-1 win at West Ham, set up by N'Golo Kante and Pedro, that was the moment I sat up and went: 'Whoah, this is a special team.'"
"Not since my Manchester United team with Cristiano Ronaldo in his pomp have I seen a side counter so quickly, so efficiently and with such devastating effect."
The former defender then compared the key components of both the sides: "In my United, the foundation was Michael Carrick and Paul Scholes in midfield; Chelsea have Nemanja Matic and Kante as their base."
"We had Ji Sung Park, who was the best at running off the ball — either to receive it or to open space for someone else — that I ever played with. If I was to teach a youngster how to play wide based on pure movement, I would get out the Ji-Sung Park videos. Chelsea's equivalent is Pedro. His movement is ridiculous."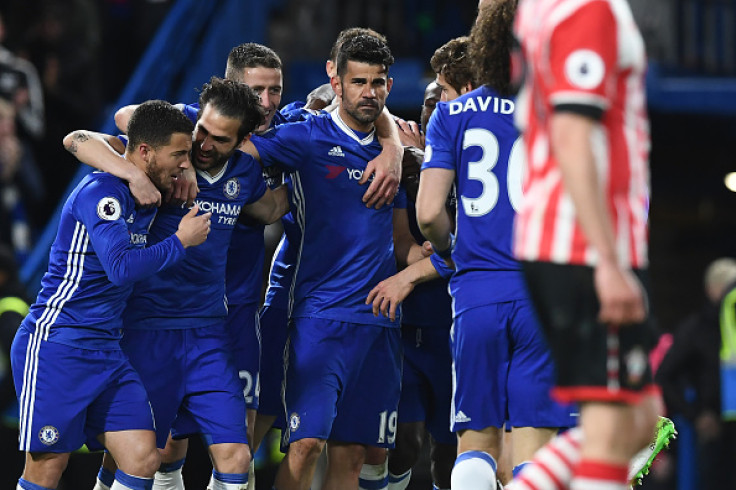 Ferdinand also reserved special praise for Eden Hazard, lauding how the Belgian has improved in recent seasons before comparing him to Ronaldo as Chelsea's main man.
"Hazard has improved his movement and, of course, he is Chelsea's ace, just like Cristiano was ours," he added. "Playing against him, I found that when he received the ball his awareness of where people are was brilliant and his low centre of gravity meant he could roll people."
"Patrice Evra is small but a superb specimen who used to physically dominate wingers because of his strength, speed and low centre of gravity.
"But then he came up against Hazard and you were thinking, 'Wow, this kid — you don't want to be coming up against him too much, Pat.' Pound for pound, Hazard was the same shape, strength and size and he was rolling Patrice inside and outside."
Chelsea can go one step closer to sealing their second league title in three years with a win over Middlesbrough at Stamford Bridge on 8 May.