Rita Ora has wowed fans with her latest Instagram offering of a workout video to celebrate reaching number one on the iTunes chart.
The 26-year-old pop sensation – who has worked hard for her gym-honed physique in recent months – shared a clip of herself doing weighted squats to her 12.2 million followers.
Dressed in her gym gear, Ora looked flawless with her hair scraped back into a high bun and a cute workout outfit of a black sports bra and leggings. She captioned the clip: "How I️ celebrated number 1 on iTunes today! Getting ready for Sunday!! @mtvema".
Fans were quick to praise the star's exercise efforts, with one person commenting: "Work it!!! And well done !"
A second said: "Great talent, stay hungry celebrate like the queen you are be proud of yourself ".
Another added: "You are lookin good, Rita. I need some workout too. Should I start some #1 hits to celebrate them like you?"
The star has been celebrating the success of her new catchy hit Anywhere, which reached the top spot on the iTunes chart yesterday.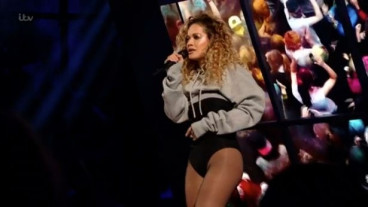 She said: "Woke up with a smile this morning! Thank you ❤️ #anywhere".
Her controversial performance on The X Factor last week no doubt garnered her new single some attention as her skimpy outfit caused a social media debate.
Ora sported a pair of black knickers with a black top, hoodie and boots with her hair in tight curls for a Flashdance theme. But many viewers took to social media to express the inappropriateness of her outfit.
One person claimed: "Has she forgotten to put on her pants?" while someone else said: "I thought Rita Ora was terrible on #XFactor . Her outfit was totally inappropriate for Saturday Night TV w/many kids watching! Awful outfit!"
Many of the singer's fans were quick to stick up for the Hot Right Now hitmaker, with one person tweeting: "The intense slut shaming of Rita Ora and her outfit is ridiculous. Y'all acting like u don't see things like that in music vids all the time".