Police have criticised plans for an inflatable 'booze cruise' where thousands of revellers are expected to float down the River Tyne, citing safety concerns.
Organisers have publicised the event on Facebook as the River Tyne Booze Cruise and hope to attract 3,000 people to float in inflatable dinghies from Newburn, Newcastle, to the Quayside, in the city.
Taking an estimated three-and-a-half hours, the event is planned for 1 July, and the organisers say the idea was inspired by a Finnish festival called Kaljakellunta, "beer floating" in English.
The organisers say on the The River Tyne Booze Cruise Facebook page that they are "working closely with the local authorities to try and come to an agreement" and that the booze cruise was what "England needs... abit (sic) of fun."
A spokesman for Northumbria Police said: "The River Tyne is not a countryside stream.
"The current is strong, there is a lot of debris and a number of vessels use the waterway every single day.
"A rubber dinghy is not an appropriate vessel to be used on this river and if people were to fall overboard then they could find themselves in real danger."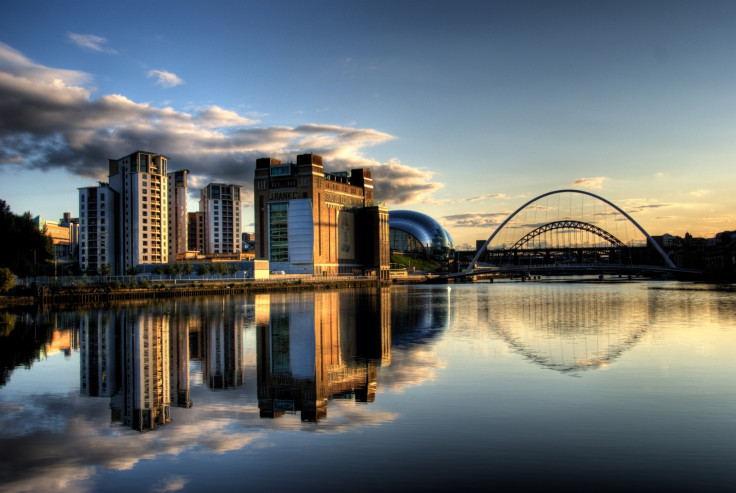 The statement continued: "If those involved are then consuming a significant amount of alcohol then that causes further concerns that could lead to a significant incident.
"We understand people want to enjoy the summer and have fun but we have a duty to ensure the safety of the public and put appropriate measures in place."
The force said it planned to speak to the organisers of the event and of them Kieran Chapman told the BBC that it was "more of a social drink not a night out in town getting mortal".
"People will be searched before they go on to the river to make sure that they're not drinking five litres of vodka," he said.
A Facebook post by the group was shared almost 10,000 times and included the message: "1 rule: Stay in your craft at all times to eliminate accidents. Armbands / life jackets highly recommended."
In Finland Kaljakellunta is an annual festival that takes place around 16 miles from the Finnish capital Helsinki, in Uusimaa province. Despite a clean-up bill said to be over €40,000 (£34,500, $49,251) it is practically impossible for authorities to stop the event, as there are no official organisers.