Manchester United's summer pursuit of Borussia Dortmund striker Robert Lewandowski has taken a decisive blow after the player's agent revealed the Polish international is not available until next summer.
Lewandowski is out of contract in 2014 and is understood to have rejected a contract extension with Dortmund, who are on the verge of the Champions League final after a 4-1 victory over Real Madrid last week courtesy of the 24 year old's four goals.
Despite United claiming a 20th league title in comfortable fashion after last week's 3-0 win over Aston Villa, defeat in the Champions League last 16 to Real Madrid has exposed the club's lack of continental experience and depth despite boasting as formidable a quartet of strikers as any in Europe.
The confirmation of the departure of influential forward Mario Goetze to Bayern Munich - the runaway Bundesliga champions - at the end of the season has raised Dortmund's defences ahead of the summer transfer window, where a number of their star turns, including Matt Hummels and Ilkay Gundogan are expected to be subject of interest.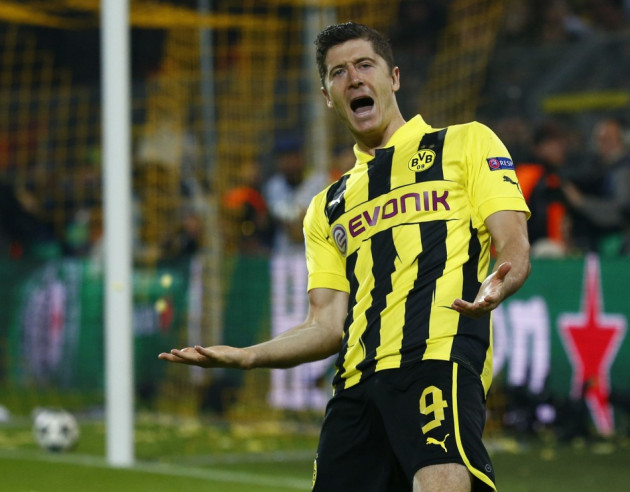 But as was displayed in the four-goal destruction of Jose Mourinho's Madrid in Germany a week ago, alongside Marco Reus, Lewandowski represents the prized asset of Jurgen Klopp's side and Dortmund appear ready to retain the forward for at least another season.
Malik Barthel, Lewandowski's agent, said: "I can tell you only one thing - Robert is interested in the future coming to the Premier League.
"The Premier League is very interesting for Robert. How long is the future, I cannot say to you. I think this summer is not the future."
Throughout Lewandowski's contract negotiations Dortmund have maintained they will be willing to retain him up until the expiration of his contract, an intention which has become more realistic after Barthel's latest comments.
German media claimed last week that Bayern had agreed a deal to sign Lewandowksi, but the domestic champions were forced to deny the report, days after confirming a deal for Goetze.
Despite having four strikers at his disposal, including the Premier League's leading marksman Robin van Persie, United boss Sir Alex Ferguson has hinted he may be keen to offset the club's disappointing run in the Champions League with two new additions this summer but remains confident Lewandowski won't be sold to Bayern.
"If the right player comes along you have to be prepared to make a move," Ferguson said.
"I can find room for anybody here as long as they have the required quality. I am not sure Lewandowski will be sold to Bayern now.
"The Dortmund fans are not going to be happy and I don't think they will sell to their main rivals. I think they will either let his contract run out, or sell him somewhere else.
"Our target for next season is to do better in Europe, possibly by adding a player or two," he added.