Real Madrid have been linked with a surprise swoop for Borussia Dortmund star Robert Lewandowski. Spanish newspaper Marca believes Madrid president Florentino Perez was hugely impressed with the Polish international's performance over the two legs of the recent Champions League semi final and has already privately spoken to the forward.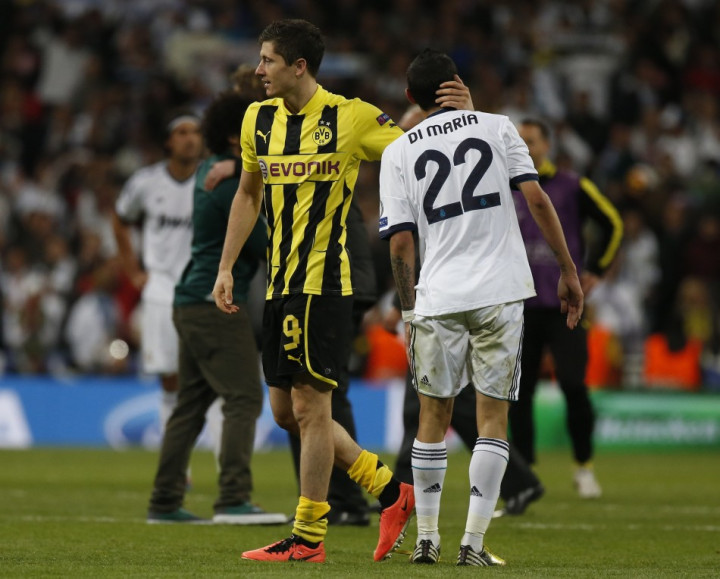 Lewandowski has had a sensational season with the Bundesliga giants so far, with 23 goals and five assists in 28 league appearances. In addition, the 24-year-old has also scored 10 times in 12 Champions League games this season. But it was his stunning four-goal display against Madrid that capped his status as one of European football's most lethal strikers.
Marca believes Perez spoke to Lewandowski after the second leg at the Santiago Bernabeu - Madrid mounted a near-incredible comeback but were finally beaten 4-3 on aggregate. No formal offer has been made to either player or club but the nine-time European champion's interest could mean Manchester United and Bayern Munich face a massive task in signing him in the summer.
The Mirror believes the £25m-rated Lewandowski is already close to a move to Munich; if he does move, he will follow team mate Mario Götze, who will sign a German record £32m deal at the end of the season.
Dortmund, who will face the Bavarians in the final of the Champions League at Wembley, are understandably reluctant to let two of their finest attacking players join their domestic rivals but appear to be powerless to stop the exodus.
"Robert has taken his decision," the player's representative, Cezary Kucharsk, was quoted as saying, "It is up to him to decide when to announce it. If you have followed Robert's career so far, you will know Robert never played at one club for more than two years."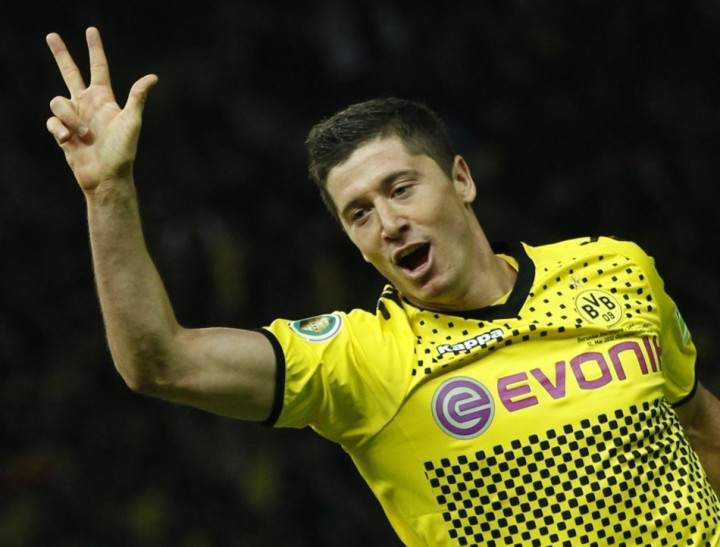 Madrid's entry in the race to sign Lewandowski is late but not unexpected. The Spanish giants are set for a summer revamp of the playing staff and a top-class striker is high up on their shopping list. Argentina international Gonzalo Higuain is likely to leave in the summer after failing to beat France's Karim Benzema to a first team place, leaving only academy graduate Alvaro Morata as an alternative.
Most reports agree Bayern have all but completed Lewandowski's signing but if the past is any indication, Madrid's potential entry will make things very difficult for the German club. Finances are unlikely to be a problem so Madrid will match Bayern's offer. In addition, they will almost definitely be able to offer higher wages, particularly with big-earners like Higuain, Kaka and possibly Angel di Maria, among others, expected to leave.
Most importantly, though, Dortmund will probably be far happier to release Lewandowski to Madrid than an immediate rival like Bayern. Of course, by that logic, United too remain in the race and with fantastically improved sponsorship, have the finances to match Madrid.