Robert Mugabe lands in Japan for state visit as Shinzo Abe hails him as 'esteemed African elder'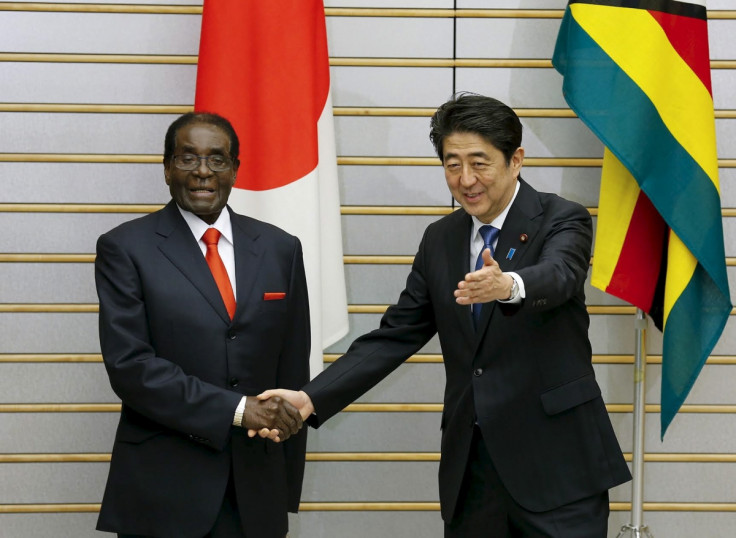 Zimbabwean President Robert Mugabe has landed in Japan for a five-day state visit pleading for aid as Japanese Prime Minister Shinzo Abe hailed him as an "esteemed African elder". In a bid to counterbalance China's growing influence in the African nation, Abe also offered Mugabe a generous ¥600m (£3.7m, $5.2m) package for a road development project.
The 92-year-old African leader, who has one of the worst human rights track records, is being courted by Japan despite being widely ignored by the West. Japan is also aiming to resume full-scale official development assistance (ODA) — which includes a comprehensive package to help set up infrastructure and public establishments.
"By closely coordinating with Mr Mugabe... we wish to help promote reform," said the Japanese premier following their bilateral meeting, according to the Jiji Press. This is Mugabe's fourth visit to Japan as president. Abe and Mugabe have previously held talks thrice.
Relations between Japan and Zimbabwe soured in 2000 after Tokyo largely suspended its ties over Mugabe's controversial Fast Track Land Reform Programme. But all those are likely to change now in the wake of improving ties.
"Zimbabwe doors are open to the Japanese investors and they should look forward to a mutually rewarding relationship with us," said Africa's longest-serving ruler and world's oldest head of state at a joint press conference.
Accompanied by his wife Grace Mugabe, the African leader also paid a visit to Japanese Emperor Akihiti and Empress Michiko. Mugabe travelled to Japan after his visit to Singapore, where he routinely receives medical attention.
Only in December 2015, Chinese President Xi Jinping went to Harare signing a string of economic deals with Mugabe.
© Copyright IBTimes 2023. All rights reserved.