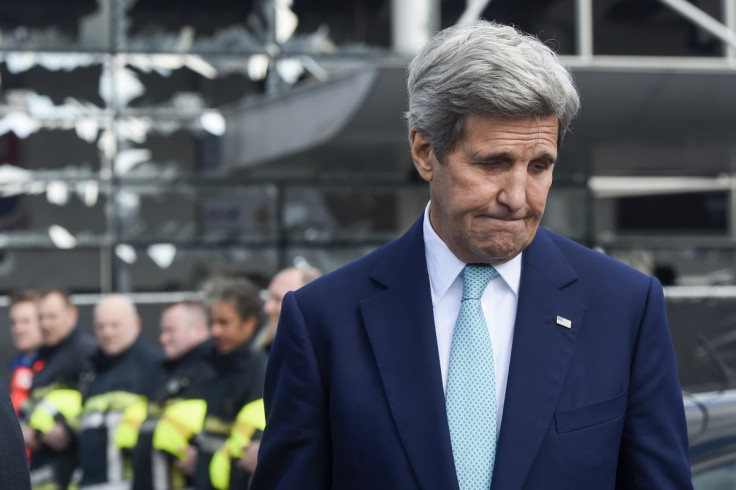 US Secretary of State John Kerry called out the anti-Muslim rhetoric by Republican presidential candidates on the 2016 campaign trail as an "embarrassment" to the US. Speaking on CBS' Face the Nation, Kerry said that world leaders are shocked by what they are seeing in the presidential campaign.
"Everywhere I go, every leader I meet, they ask about what is happening in America. They cannot believe it. I think it is fair to say they're shocked," the former senator said. "It upsets people's sense of equilibrium about our steadiness, about our reliability, and to some degree I must say to you, some of the questions the way they're posed to me it's clear to me that what's happening is an embarrassment to our country."
Kerry did not mention any candidate by name, but may very well have been speaking directly about Republican frontrunner Donald Trump and Texas Senator Ted Cruz. The two leading GOP candidates have ramped up their anti-Muslim rhetoric in the days following the terrorist attacks in Brussels, with Cruz going as far as calling for law enforcement patrols of Muslim neighbourhoods. Trump, meanwhile, has renewed his support for torture techniques such as waterboarding and has proposed a ban on Muslim immigration to the US.
The secretary of state defended President Barack Obama from criticisms following his pre-planned trip to Cuba and Argentina in the midst of the situation in Belgium. "The president of the United States' schedule is not set by terrorists," Kerry said. "The President of the United States has major diplomatic responsibilities. He has to engage with other countries. That was an important part of trying to build a relationship and achieve some of our goals with respect to human rights, with respect to transformation in Syria - in Cuba and elsewhere."
Kerry added: "Life doesn't stop because one terrible incident takes place in one place. The president responded to it. He talked to the prime minister of Belgium from Cuba."
According to CBS News, Kerry returned from Brussels following the attacks and said there was a "great urgency" in Europe to fix the intelligence gaps that allowed the bombings to occur in the first place.
"We've been engaged actually, with the Belgium authorities for some period of time now trying to fill gaps that they're aware exists," he said. "And I think everybody is now geared up to recognise that the fight is not just in Iraq and Syria but the fight is wherever those fighters have come from."
Kerry noted that the attacks in Europe and beyond by the Islamic State (Isis) served not only to foster terror in the West but to boost morale among their people in Iraq and Syria. "It's the only way for them to recruit," he said. "It's the only way for them to try to provide some added morale to people that we know are very much having moral problems in Syria and Iraq."
The 26 March interview also discussed the ongoing situation in Syria and Russia's involvement in the region. Despite denying that Russia was an ally to the US, Kerry said it was helping the US with situations in the "strategic interest" of the country.
"Russia has helped bring about the Iran nuclear agreement. Russia helped get the chemical weapons out of Syria," he said. "Russia is now helping with the cessation of hostilities. And if Russia can help us to actually affect this political transition, that is all to the strategic interest of the United States of America." Neither Trump nor Cruz appeared to respond to Kerry's comments.