Zimbabwe's Robert Mugabe and China's Xi Jinping heap praise on each other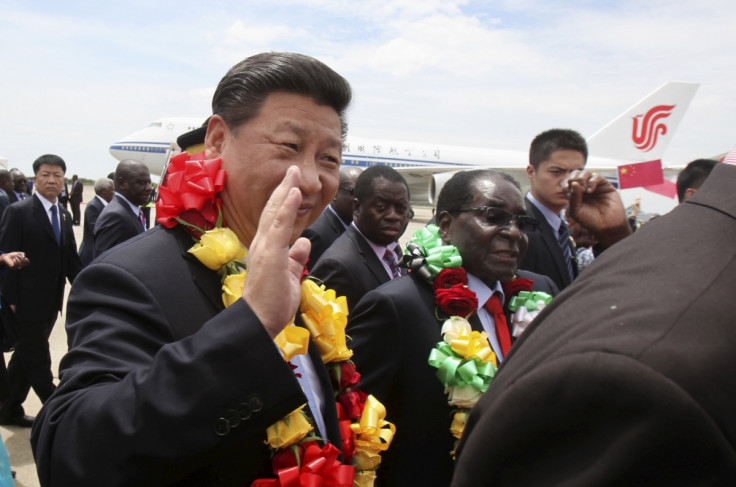 Zimbabwean President Robert Mugabe hailed his Chinese counterpart Xi Jinping as a "true and dear friend" while the Chinese leader returned the compliment by calling him a seasoned statesman and the "founding father of Zimbabwe". The leaders shared their mutual admiration during Xi's two-day state visit to the African country.
Mugabe, 91, personally welcomed Xi at Harare International Airport while thousands of visitors thronged the airfield to get a glimpse of the Chinese president. Mugabe, who has been ruling Zimbabwe since 1987, was accompanied by his wife Grace Mugabe and scores of other government officials.
The two countries signed 12 major agreements in key economic sectors, including power, telecommunications and infrastructure, during the visit. Xi was accompanied by a 200-strong delegation, which included cabinet ministers and high-ranking representatives of the Communist Party of China.
China's new deals are estimated to be worth nearly $4bn (£2.65bn), excluding the existing ones in chrome and diamond mining. Writing in Zimbabwe's state-run Herald daily, Xi asserted: "The two sides agreed to be good partners, good friends, and good brothers who treat each other as equals and support each other for win-win cooperation and common development. This agreement has provided a vital guidance for the growth of China-Zimbabwe relations."
Xi is the second sitting Chinese president to visit Zimbabwe after Jiang Zemin in 1996. Xi headed to Johannesburg, South Africa, on Wednesday (2 December) to co-chair the Forum for China-Africa Cooperation summit.
As a sign of the strengthening of ties between China and Zimbabwe, Mugabe — one of Africa's longest-serving authoritarian rulers with a poor track record on human rights — was conferred China's Confucius Peace Prize in October.
© Copyright IBTimes 2023. All rights reserved.