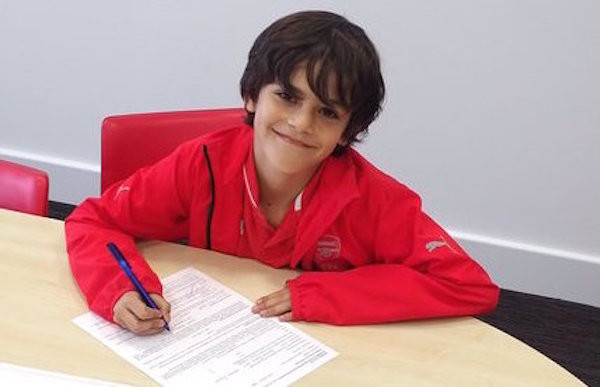 Arsenal hero Robert Pires' seven-year-old son has joined the club' youth academy after signing terms with the north London club. The ex-France international revealed the capture on Twitter before congratulating his second child Theo on the agreement.
Pires enjoyed a trophy-laden six seasons with the Gunners, winning the Premier League twice, the FA Cup three times and the Community Shield on two occasions. The 42-year-old, who retired from the game in 2015 after spells with Villarreal, Aston Villa and FC Goa will hope his son can emulate him in the coming years as he begins his football education.
The Arsenal youth system has undergone a major restructuring in recent years, with Andries Jonker replacing club legend Liam Brady as academy manager. Formally of Barcelona and Bayern Munich, the Dutchman has pledged to continue the tradition of bringing players through the system after spells working under Louis van Gaal.
"When you have been working at top clubs in Europe, and I was lucky with Barcelona and Bayern Munich, then you also notice the difference with a level that is lower," Jonker told Arsenal's official website in September 2014.
"You know the ambition in a top club, you know the atmosphere in a top club is all about winning and if it is a club I like with history, exposure then you can feel quite comfortable.
"I have found out about myself. At those clubs I have found myself very comfortable. Of course I was proud to be asked by Arsenal to be a manager of the academy, and if you have that row of clubs – Barcelona, Bayern Munich, Arsenal – then you get the feeling I have to do this.
He added on the current Manchester United boss: "Yes, you have [a history of bringing players through early] and that is what is at Barcelona and what Louis [van Gaal] brought to Bayern Munich. That is typical to Ajax and Dutch football, and I felt very comfortable with that.
"I knew it and when I spoke in the beginning with Ivan Gazidis and he explained to me the philosophy of the club, and later Arsene Wenger, I felt very at home with it. It was nothing strange to me – it felt like it was the way it had to be."