Chelsea boss Roberto Di Matteo has risked another run in with referees after calling for his side to be treated more fairly following their League Cup win over Manchester United at Stamford Bridge
Extra-time goals from Daniel Sturridge and Ramires ensured Chelsea reached the last eight of the competition, after Eden Hazard's stoppage time penalty in normal time denied United a second win at Stamford Bridge in the space of four days.
After a weekend in which Mark Clattenburg's performance during the Premier League game between the two sides was criticised, amid allegations he abused John Obi Mikel, Di Matteo was quick to request a greater degree of fairness from officials.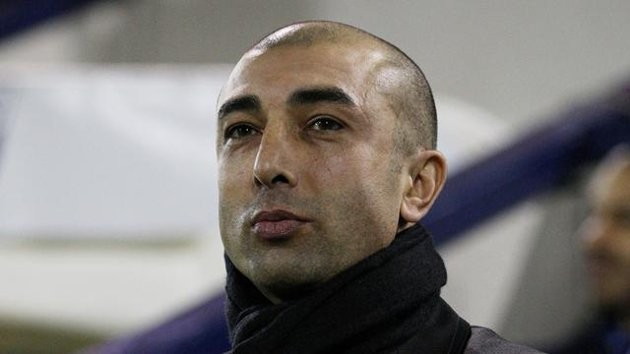 "It's incredible that it always hits Chelsea Football Club," Di Matteo said. "So maybe that's something to think about, you know. We would just like to be treated fairly by everybody.
"I think the referees should be going into the games with the most confidence that they have," he added. "We're all under pressure here - the players, the officials, the coaching staff - to perform. And I don't think there's any prejudice from that point of view."
Chelsea yesterday confirmed that it would proceed with a complaint to The Football Association over the alleged inappropriate language used by Clattenburg towards Mikel, however reports suggest his fellow officials, who could listen to the refereee druing the game are ready to support him.
Like they had four days previous, Chelsea contributed to their downfall in the early stages against a United side who showed nine changes from the league encounter.
Petr Cech's short goal kick to Oriol Romeu caused confusion; allowing Ryan Giggs to slot home, and after David Luiz levelled from the spot, Javier Hernandez restored the lead following an error from the Brazilian centre-back.
Gary Cahill's header made it 2-2, but Nani appeared to have sent United through to the quarter final with a delicate chip, before Hazard's penalty, following Scott Wootton's foul on Ramires.
Wootton horror evening continued into extra time when his short header allowed Sturridge to race through, while Ramires seemingly sealed it with a fifth with five minutes remaining.
Giggs' penalty gave the visitors hope, but Chelsea held on and will face Leeds United for a place in the semi-final, leaving Di Matteo delighted with the character shown by his players.
"I think we showed on Sunday already that we've got big characters in the dressing room and we had to show it again tonight," The Blues manager added. "They showed a big, big heart and passion and pride to not want to lose this game.
"It was a very exciting game of football to watch, typical cup game, quite open at times and a lot of mistakes from both teams because there were probably a lot of young players involved in this game."