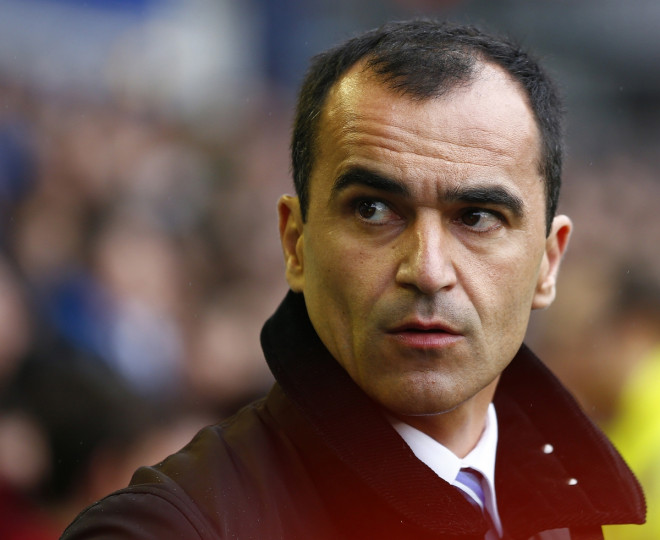 Everton manager Roberto Martinez is pleased to have been linked with the Tottenham Hotspur job, believing it is further proof of how far the club have come this season.
The Toffees are all-but guaranteed fifth place and Europa League football next season after their hopes of clinching a spot in the Champions League were derailed by defeats to Crystal Palace, Southampton and Manchester City.
Tottenham lie three points adrift of Everton but their woeful goal difference will consign them to fifth place at best, a finish to the season that is increasingly likely to see Tim Sherwood lose his job.
A string of names have been linked with the soon to be vacant job at White Hart Lane including Ajax boss Frank de Boer and Mauricio Pochettino at Southampton while Martinez has also seen his name mentioned.
When asked of rumours suggesting he is being lined up for the Spurs job he told reporters: "This is the time you are going to get rumours, with talk about new squads and the next moves.
"From our point of view, it means we have done something right – that, as a football team, we are performing well. That affects players, members of staff and managers. We take it in a positive manner and just carry on working hard.
Having seamlessly replaced David Moyes at Goodison Park this season, Martinez has also been credited with introducing young starlets John Stones and Ross Barkley into the first team on a consistent basis. The duo have been given key roles under the former Wigan manager this season who has backed both to shine at the World Cup this summer if handed opportunities by Roy Hodgson.
"John Stones has shown he is in a very good moment of form and at a very good level. Character-wise, I can guarantee anyone that he is ready to embrace whatever challenge comes his way.
"The truth is that the young players have had a huge role. You need to judge players by their performances. The age shouldn't affect the role of a player in a national team.
"Players like Ross Barkley and John Stones have been playing beyond their years and their performances have been of a calibre whereby you know they will help, whatever team they represent."