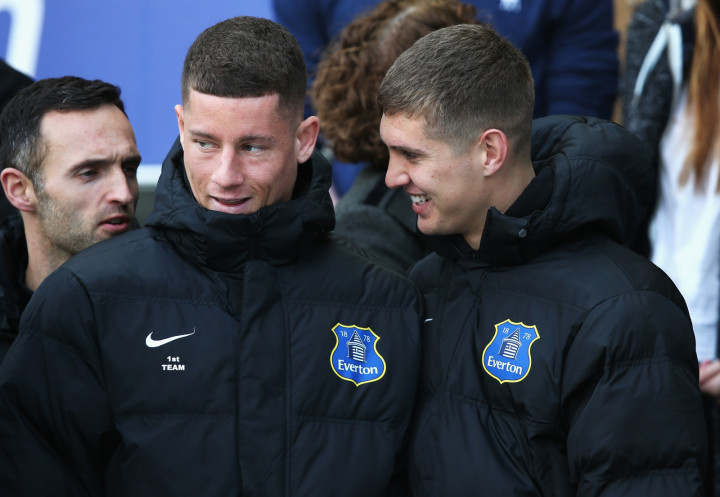 Everton manager Roberto Martinez has denied that the club's recent dealings with Chelsea have led to the pair reaching a gentleman's agreement regarding a possible move to Stamford Bridge by Ross Barkley and John Stones.
Romelu Lukaku has moved to Merseyside in a permanent deal and has been followed by Christian Atsu joining the Goodison Park club on a season-long loan.
Chairman Bill Kenwright has helped build a relationship between both Everton and Chelsea, leading to suggestions the clubs may have reached an agreement over Barkley and Stones, who despite both recently signing new long-term contracts have been heavily linked with moves to west London.
But Martinez, when asked about a potential agreement with Chelsea, said: "No, no, not at all."
He added: "We have a good relationship and a professional relationship and I want to believe that they feel that they can trust us in sending players out on loan. I don't think that relationship goes any further.
"The chairman has been instrumental in forging that relationship more than anyone.
"He has developed that bridge between the two clubs and there is a possibility for both to use it in a good way, but there is no commitment in any sort of future deals."
While Chelsea have made four significant additions this summer, Everton have been busy themselves, though while Lukaku, Atsu and Gareth Barry represent their headline additions, the retention of Barkley, Stones, Seamus Coleman and Martinez himself represents their best work.
And the Spanish boss has been left delighted with the work done this summer.
"I am very happy, today, at the start of the season, with the business we have done," he said.
"We have brought the right characters into the club. Now we are in a position where I am desperate to see how the team reacts to the first game of the season.
"If there is anything [in the transfer market] which will help the team until the next window opens, we will always look into that, but, in terms of the squad we have, I am delighted with what we achieved and the continuity we got.
"In terms of being desperate to bring someone in, the answer is 'no', but we are going to use the period from now until the window closes to see how strong the squad is.
"If there is anything we need to help the players we will do that."