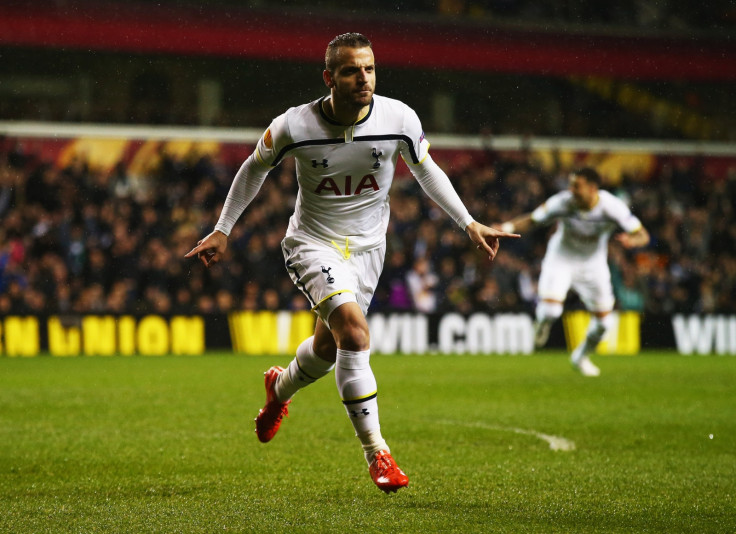 Villarreal's Roberto Soldado has said that the firing of Andre Villas-Boas just months after the striker arrived at Spurs was the key factor in his poor form at White Hart Lane. Soldado says he has rediscovered his happiness in La Liga, following two seasons in the Premier League where he failed to make the impact expected.
The now 30-year-old striker moved to the Premier League in the summer of 2013 as part of the summer overhaul conducted by Villas-Boas following the departure of Gareth Bale. The Portuguese manager wasted little time in matching Soldado's £26m ($39.8m) release clause at Valencia after he scored 24 goals in the previous La Liga campaign.
Soldado scored four goals in 13 Premier League appearances under Villas-Boas and as well five more in the Europa League. However, following the dismissal of the former Chelsea boss in December, he scored just two goals throughout the rest of the campaign under Tim Sherwood.
"I went with enthusiasm and excitement for the challenge, thinking that the Premier League was perfect football for me, but it was quite the opposite. Since the dismissal of Villas-Boas, who was the one that gambled on me, everything went upside down," Soldado said to Spanish newspaper AS. "I lost my confidence and I had a hard time. But now I think that that experience is making me to appreciate and enjoy more what I'm living right now."
The Spaniard tried to repair his reputation in the following campaign under Mauricio Pochettino, but despite the backing of the fans he struggled again. So following 16 goals in 75 appearances for the North London club he decided to give up on his Premier League dream and return to La Liga.
Soldado has since scored two goals and provided three assists for Villarreal, being voted the club's player of the month for August and guiding his side to the top of La Liga for the first time in their history.
"It is vital to be happy with what you do, no doubt," Soldado explained. "In the end, over economic or sports issues, it is crucial that you enjoy what you do. I know what it is to be unhappy, and I needed a change.
"The most important thing for me was to enjoy football again, because after the two years I spent in England my target was to be happy again in the every day life. We have just started but I cannot deny that I'm enjoying a lot and I wake up every morning eager to train."