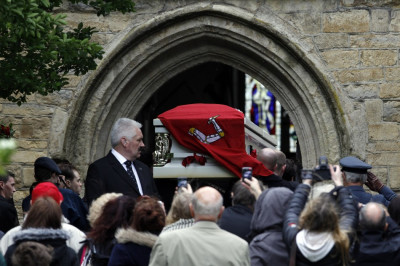 A horse-drawn carriage will carry the coffin of the Bee Gees singer Robin Gibb through his hometown of Thame in Oxfordshire as grieving fans line the streets.
Gibb died at the age of 62 on 20 May from kidney failure brought on by cancer and pneumonia.
The glass-sided carriage will be driven to St Mary's Church for the private funeral service. A full memorial service will be held at St Paul's Cathedral later this year.
His son Robin-John said that the Bee Gees' hit I Started A Joke will be played at the funeral, as will the star's track Don't Cry Alone, from his Titanic Requiem, which premiered weeks before his death.
The family have asked that charity donations be made to the Rebecca House Hospice and Wish Upon A Dream, children's charities that were "close to Gibbs heart".
The widow of Gibb, Dwina, has told the she does not want the mistress of her late husband, Claire Yang - who he had a daughter with - to attend the funeral.
Born on December 22, 1949, Robin was 17 when he sang lead vocals on the Bee Gees' first British No 1, Massachusetts, in 1967.
It was their switch to disco in the 70s that propelled the Bee Gees to superstardom with songs including Night Fever and Stayin' Alive.
Their 1977 soundtrack to the film Saturday Night Fever sold more than 40 million copies worldwide, making it the best-selling movie soundtrack ever.
The band released nearly 30 albums during their career, selling more than 110 million records worldwide.