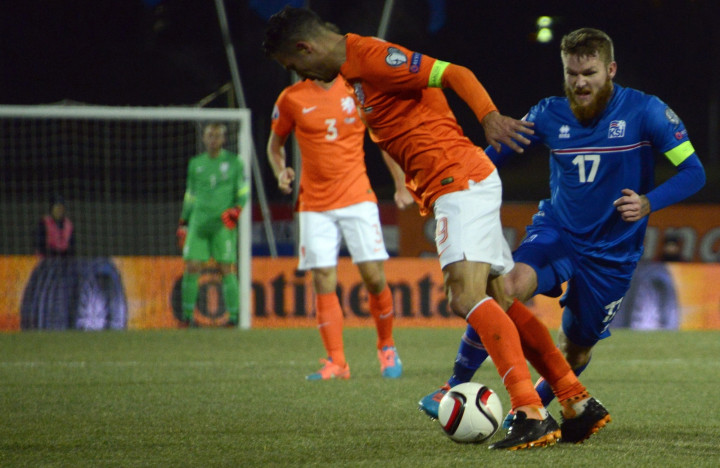 Netherlands and Manchester United striker Robin van Persie has defended Guus Hiddink after Iceland inflicted the third defeat of his reign since replacing Louis van Gaal following the country's third-place finish at the World Cup.
Gylfi Sigurdsson struck twice as Iceland maintained their 100% record in European Championship qualifying with a 2-0 win over the Dutch in Reykjavik as Hiddink suffered the third loss of his four games in charge.
Local media have already pilled pressure on Hiddink with the Netherlands third in Group A after three matches, six points adrift of leaders Iceland and second-placed Czech Republic but captain Van Persie has attempted to take the heat off the boss.
"It really is painful that we lost here," the United player said. "Guus is a fantastic coach. We are all working as hard as we can to play well. Iceland were looking for our mistakes.
"We must keep hope. Nothing has been decided yet but there's a lot of work to do. We'll do anything. It's an honour for everyone here to play for Oranje. We won't give up."
Van Persie, who was understood to be close to Van Gaal during the pair's spell together with the Netherlands, has himself struggled for form this season having scored just twice for United before netting a late penalty in the win over Kazakhstan on Friday 10 October.
While United's Van Persie offered his support for Hiddink, winger Arjen Robben was less than complimentary about the current Dutch regime but said the squad must not look for others to blame.
"This was not worthy of Oranje," he told NOS."But we did it all ourselves. We need to look at ourselves. We made things unnecessarily hard for ourselves.
"Now I have to be careful what I say because I'm so angry. We shouldn't point fingers at each other, but what happened tonight shouldn't at this level. If you play like this, you don't win games."