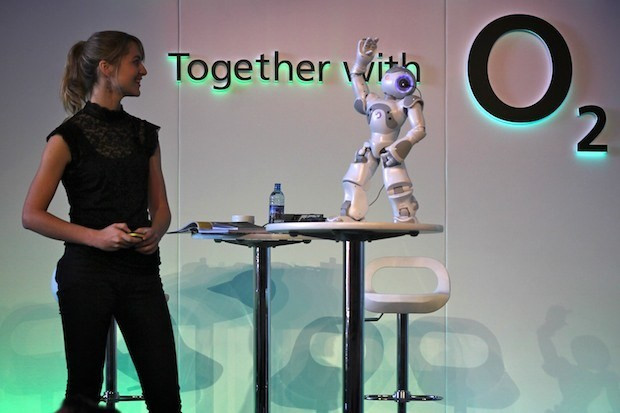 Heather Knight, founder of Marilyn Munrobot in New York, is attempting to bring art and science together in her research.
Knight is trying to develop charismatic robots to create social interactions between humans and robots, one result of which was her co-host at a Wired 2011 event Friday, a foot-tall robot called Data.
"I'm one of those people who thinks it will be really cool to live in a world where we live alongside robots, like 'Star Wars,' or 'Futurama' -- is anyone a 'Futurama' fan?" Knight said, which was followed by a squeaky voice coming from the robot, Data.
Unfazed, Knight resumed talking about her dream of human-robot relations, discussing "social interfaces for technologies" and "ways of understanding the universe."
Data interjected: "It appears art and sciences have absolutely nothing in common."
What followed was what seemed to be a completely free-flowing debate about the correlation between art and science. It was completely impossible to tell if the argument was preprogrammed.
However, what was apparent was that Knight had demonstrated how "with a marriage of technology and entertainment, we can create innovations."
Knight then spoke about another project of hers, the Robot Film festival, which showed around 50 films with robotic actors or themes.
She then went on to talk about her research, where her humanoid friend would do standup comedy and distinguish between which jokes were successful among different sections of the audience.
Data finally went out dancing to Michael Jackson's "Thriller," in better time with the beat than most, a highly comical affair.
Knight was a highlight of the Wired 2011 event and a delight to watch while socializing with Data. We'll try to get a copy of the video up soon!