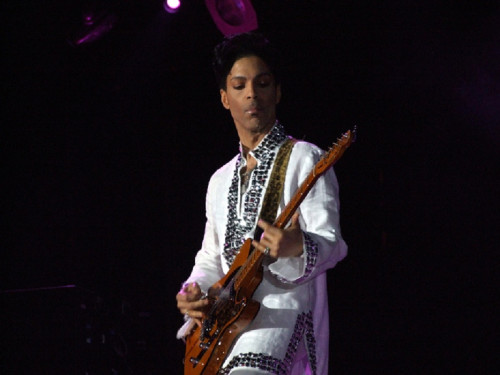 Rock star Prince has announced a series of concerts in London next month.
The musician will perform at several "iconic venues in and around London" according to a statement, the first of which will be on 3 February. Further dates and ticket details have yet to be announced.
The Hit and Run tour will also help to publicise the release of PLECTRUMELECTRUM, the debut album from 3RDEYEGIRL, Prince's all-female rock band.
A press release gave fans few details of the upcoming performances. "Details about the event are very hush-hush at this time but as we find out more, you will be the second ones to know."
While details of the venues and dates are currently being kept under wraps, Prince has confirmed his first stop will be a press conference in singer-songwriter Lianne La Havas's living room.
LaHavas, who was on the BBC's Sound of 2012 list, won a Mercury Prize nomination for her debut album Is Your Love Big Enough? The 24-year-old singer-songwriter met Prince last year during LaHavas's tour of America and "have kept in touch ever since".
"When Prince told Lianne he was coming to London to launch his new project, Ms LaHavas jokingly offered her flat as the location for the press conference," said the press release.
Prince last performed in London in July 2011 at the Hop Farm festival, and had a record breaking and critically acclaimed 21-night residency at the O2 Arena in London in 2007.
The 55-year old musician is best known for hits Purple Rain, Raspberry Beret and Kiss. He has become known for playing "hit and run" shows that he often announces just days in advance. Recently he has been backed by 3rdEyeGirl - three female musicians he found online or through recommendations, and started playing with last January.
Top five weird Prince moments
1993: Changes his name to a symbol

Following a dispute with record company Warner Brothers over the ownership of his work Prince changed his name to The Artist Formerly Known As Prince, and used the symbol, which he claimed was a combination of the male and female symbols, for the title of his 12th album.
2000: Back to Prince again
Fans and music journalists across the world breathed a sigh of relief in 2000 when The Artist Formerly Known As Prince reverted to his old title, claiming that the negative associations with his stage name had been forgotten.
July 2007: Gives away free albums
Prince gave away around three million copies of his album, Planet Earth, free with the Mail On Sunday. The giveaway angered music retailers, who called it "an insult" to high street record stores and "absolutely nuts". It also dealt a blow to Prince's record label, Sony BMG, which shelved plans to release the album in the UK.
July 2010: Announces the internet "is over"
Prince made his comments as he released his latest album 20Ten on CD, refusing to allow any digital sales because companies such as iTunes will not pay advance fees for them, and proclaimed the internet "outdated".
August 2013: Prince joins Twitter, tweets salad and confuses fans
His first message: "Prince's 1st tweet... Testing 1, 2", appeared on the social networking site in the early hours of 14 August. It was followed by a photo of a salad and his first self-portrait, which turned out to be a photograph of an empty room filled with purple smoke.