Roger Federer did not even break sweat as he eased into the second round at Wimbledon after his opponent Alexandr Dolgopolov was forced to retire through injury.
The Swiss and Ukrainian were battling on centre court for less than 45 minutes before Dolgopolov, who was nursing an ankle injury before the clash, sheepishly made his way to the net to inform his opponent and the umpire that he could not continue. Carrying on would have simply delayed the inevitable; Federer seized control of the clash from first game, breaking the 28-year-old instantly as he raced into the ascendancy.
The 35-year-old, who is the favourite to emerge victorious at SW19, did not have awfully long to enamour the adoring Wimbledon crowd whose disappointment was extremely audible when the tie was abruptly called to a halt, but he still managed to dazzle spectators with his razor sharp serves and intelligent defensive play which forced Dolgopolov into making a catalogue of errors.
Federer took less than half an hour to sew up the first set 6-3 and raced into a 3-0 lead in the second before being given the rest of the afternoon off. The seven-time Wimbledon champion sympathised with his opponent, who became the fourth man to retire through injury after Novak Djokovic's opponent Martin Klizan, Victor Troicki and Nick Kyrigos were forced to withdraw from their respective matches.
"It feels great to be back on Centre Court," Federer told BBC Sport."I was hoping Alex was feeling better but he's had a rough one this year, he tried but he has had to pull out of a lot of matches. Getting another win here is great news, I'm feeling healthy so I'm very happy.
"I've been on tour for a long time, I mostly play abroad and get unbelievable support, they [the Wimbledon crowd] treat me like one of their own. I'm sorry they couldn't see more tennis, but Wimbledon is an unbelievable place to play and for the fans to come to.
Federer was unsurprisingly diplomatic when asked about his status as Wimbledon favourite and says he has already achieved one dream in returning to south London with a clean bill of health.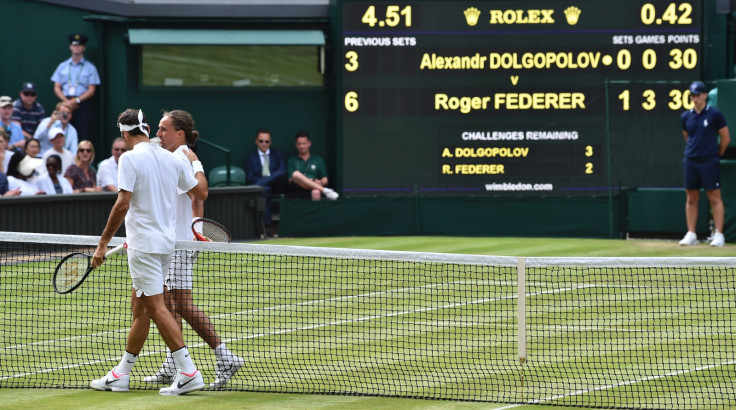 The veteran could achieve another by winning his eighth Wimbledon title, a feat which would see him hold the record for the number of triumphs at the grass-court showcase - he is currently tied with Pete Sampras and William Renshaw - and Federer admitted that winning his 19th Grand Slam title next weekend would be nothing short of "beautiful".
"The question is who makes you favourite, just because I haven't played the clay season doesn't make me the favourite. Rafa (Nadal) I'm sure is feeling great after his performances on clay, and Andy and Novak are no different. I've achieved my dream to be back here healthy.
"It would be beautiful [to win an eighth Wimbledon title], I have had the most unbelievable moments of my life happen on Centre Court. We'll see how far I can go, I'm not the youngest but I'm putting myself out there. The dream continues."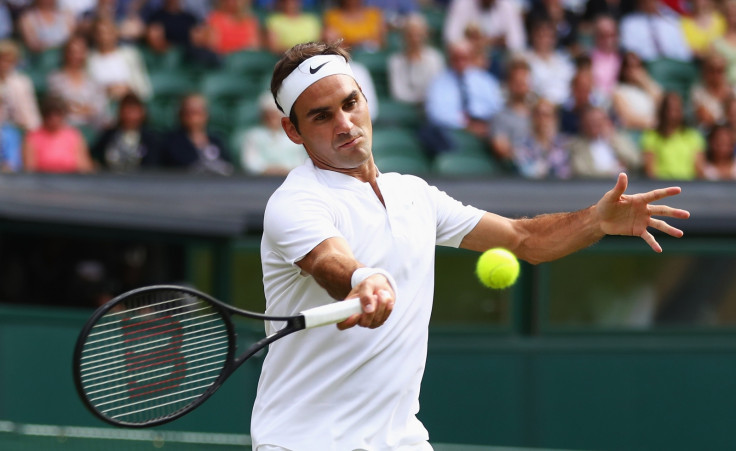 Elsewhere, Britain's Jamie Ward's Wimbledon campaign started and ended in swift fashion after the former British number two was knocked out in straight sets by Marcos Baghdatis on Court 18.
Ward, currently 1,069 in the world rankings, was joined by his fellow Briton Brydan Klein in being dumped out of Wimbledon, the wildcard also succumbing to a straight sets loss at the hands of Yuichi Sugita on court 16.
Katie Boulter fared slightly better than her male counterparts but her Wimbledon dream was ended by Christina McHale on Court 12. Britain's number six managed to take the first set 6-3 before the American took control to win the second 7-5 and clinch the decider 6-3.