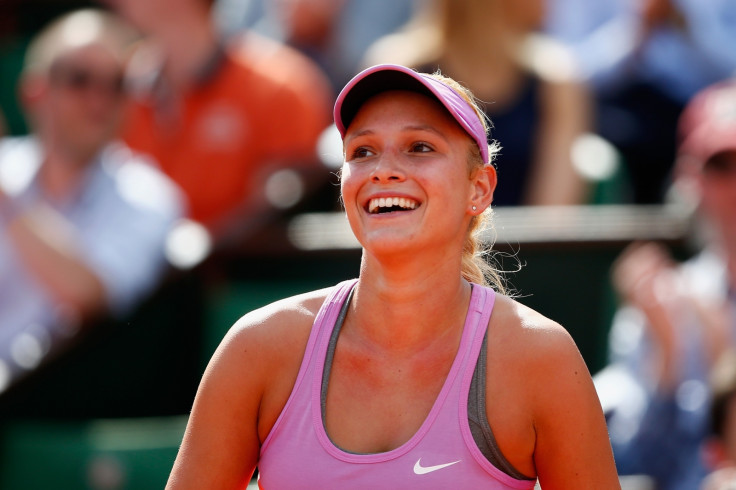 Tennis bad boy Nick Kyrgios has provoked outrage after jibes at rival Stan Wawrinka, picked up by microphones during a second round clash at the Montreal Masters, alleging that his fellow player Thanasi Kokkinakis had slept with his opponents girlfriend, Donna Vekic.
The sportsman's outburst was recorded court-side mid-match at the event, which is one of the major tournaments in the build up to the US Open. "Kokkinakis banged your girlfriend," Kyrgios, who is like Kokkinakis is Australian, can clearly be heard saying. "Sorry to tell you that, mate."
Kyrgios is no stranger to controversy. At Wimbledon earlier this year he was given a code violation for swearing, hugged a ball-boy, bounced his racket into the crowd and had an argument with an umpire over changing his socks.
After Kyrgios' trash-talking Wawrinka, the Swiss star progressed in the tournament after Kyrgios retired despite leading 6-7, 6-3, 4-0. Although Wawrinka showed no hostility towards Kyrgios at the end of the match, shaking hands with the 20-year-old from Canberra, he later took to Twitter to vent his anger and disappointment in a series of posts.
"So disappointing to see a fellow athlete and colleague be so disrespectful in a way I could never even imagine.
"What was said I wouldn't say to my worst enemy. To stop so low is not only unacceptable but also beyond belief.
"There is no need for this kind of behaviour on or off the court and I hope the governing body of this sport does not stand for this and stands up for the integrity of this sport that we have worked so hard to build."
In April, double grand slam winner Wawrinka, aged 30, announced that his marriage to Ilham Vuiloud, a Swiss TV presenter and former fashion model, was over.
But who is the woman caught in the middle of tennis' public love triangle? According to reports it is 19-year-old rising star Donna Vekic.
IBTimes UK gets to know the athlete little better.
Donna Vekic facts:
At 19, she is 11 years younger than her rumoured boyfriend.
The Croatian tennis player has one singles title on the WTA tour, as well as four singles and one doubles title under her belt.
Vekic played with Kokkinakis in the 2014 Australian Open mixed doubles.
Vekic is ranked 127 in the world and has made $815,152 prize money in her career.
Born in Osijek, Croatia, she now lives in Monte Carlo.
Her grandmother, a physical education teacher, was credited with discovering one of the city's most famous exports – the Croatian footballer, Davor Suker
She keeps fan updated via her website http://donnavekic.com/
From the looks of her Instagram, she is a dog-lover and might be gunning for Kim Kardashian's 'seflie queen' title.
She is an avid social media user with account on Facebook, Instagram and Twitter.