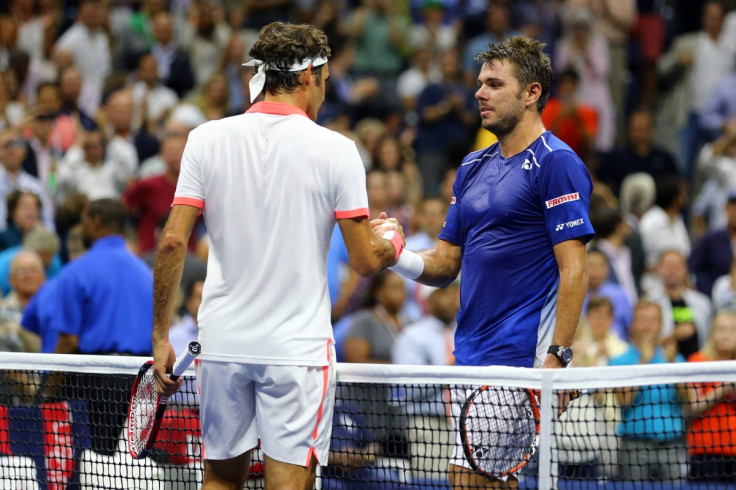 Roger Federer and Stanislas Wawrinka meet in the second semi-final at the ATP World Tour Finals in London.
Where to watch
Federer vs Wawrinka is live on Sky Sports 3HD and BBC Radio Five Live sports extra at 8pm.
Preview
Roger Federer and Stanislas Wawrinka will renew rivalries in an all-Swiss clash for a place in the final at the ATP World Tour Finals. The meeting is a repeat of last year's thrilling and at times controversial clash which saw Federer survive four match points before reaching the final.
The match is perhaps best remembered for what followed, after Wawrinka's on-court spat with Mirka Federer, which led to both players staging late night talks in the locker-room to settle the matter. Federer's wife is understood to have called Wawrinka a "cry baby" to which the French Open responded in an angry manner.
The discussions between the two players to help clear the air, which came less than a week before Switzerland's Davis Cup final against France, are said to have accentuated Federer's pre-existing back problem which forced his withdrawal from the final 24 hours later. Despite combining to win the Davis Cup, the pair's relationship has regularly been called into question particular amid Wawrinka's recent success.
But despite the 30-year-old reaching a third straight semi-final at the season-ending tour finals, Federer holds the upper-hand in terms of the head-to-head, winning four of the last five meetings including all 12 previous encounters on a hard court. The straight sets demolishing of Wawrinka at the US Open in their last duel was Federer's most comprehensive win yet.
What the players say
Roger Federer: "Any win against any fellow top-10 player is a good thing. I beat most of them this year, which is good to know in my mind. When I face them, I'm not, like, worried about any sort of matchup there is.
"Sometimes it's almost better to lose against a guy outside of the top 50. It's not a guy you play all the time. Losing against fellow top-10 players sometimes can play tricks on your mind, then the match ups come into play. When you play them in a slam quarters or semis, you almost feel a little bit uncomfortable playing against them.
"But this year has been very successful for me, that's how I feel anyway, against fellow top-10 players. So, yeah, I think it's only going to be helpful looking forward. Still no guarantee. Every tournament is different. Best-of-five slightly different. But I had a good year in slams, as well, to be quite honest, except Australia. Hopefully next year it's going to be good again."
Stanislas Wawrinka: "He's playing really well. It's tough to play indoor, especially World Tour Final, he is always fit, always ready. Last year was an opportunity to beat him, didn't took them.
"Let's see, I had a tough match now, two hours' match with a lot of pressure. I also feel quite tired. I'm going to be focused on that, try to rest, try to recover and be ready for hopefully a good match.
"He's amazing for the game, that's for sure. But he's always been really good with me. I always enjoy to share the court with him."
Betting odds (source William Hill):
Roger Federer 4/11 vs 21/10 Stanislas Wawrinka
Head-to-head record: Federer 17-3 Wawrinka. Last match US Open (hard) Federer bt Wawrinka 6-4 6-3 6-1
Previous meetings at the ATP World Tour Finals: Federer 1-0 Wawrinka. Last match Federer bt Wawrinka 4-6 7-5 7-6