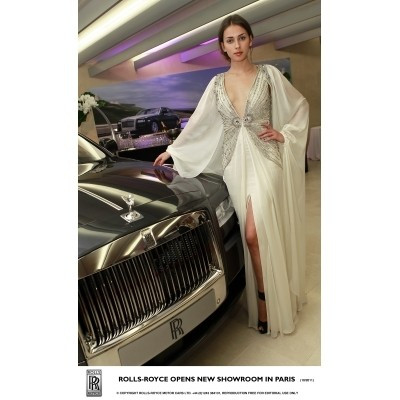 Rolls-Royce has opened a new showroom in Paris at a grand opening attended by VIP guests, celebrities and the media. The new launch was made by Torsten Müller-Ötvös, CEO, Rolls-Royce Motor Cars.
The 300-square-metre showroom provides space for three Rolls-Royce motor cars, an espresso bar and customer lounge with colour and trim samples.
"Paris is a global capital of style and fine living. I am delighted to see the new French home of Rolls-Royce in the heart of Paris, which complements the unique mood of the city, as well as the core values of our company," Müller-Ötvös said at the launch.
"The investment in our new showroom underpins our successful business partnership with Rolls-Royce in France. Working with our architects we were keen to create an atmosphere befitting the Spirit of Ecstasy, as we celebrate the centenary of this famous figurine," stated Eric Neubauer, dealer principal of Rolls-Royce Motor Cars Paris.
Furthermore, to commemorate the 100th anniversary of the Spirit of Ecstasy, Rolls-Royce has commissioned a series of innovative collaborations with leaders from the worlds of art and fashion.
One of the most distinctive voices in contemporary British fashion, Alice Temperley, MBE, is renowned for creating designs that combine meticulous detail with an English personality. She created a gown for Rolls‑Royce that can be described as the embodiment of 'the graceful little goddess' and this was presented at the grand opening, straight from the catwalk at London Fashion Week.
Another outstanding project is the exhibition of images from the Rankin: Spirit of Ecstasy collection. The renowned photographer Rankin is capturing 100 images inspired by the figurine and a selection of striking portraits shown for the first time in France at the showroom opening.