Ron DeSantis plans for his controversial bid for presidency in 2024 election
Florida Governor Ron DeSantis plans a controversial bid for the presidency in 2024, emphasising conservative and far-right stances throughout his campaign.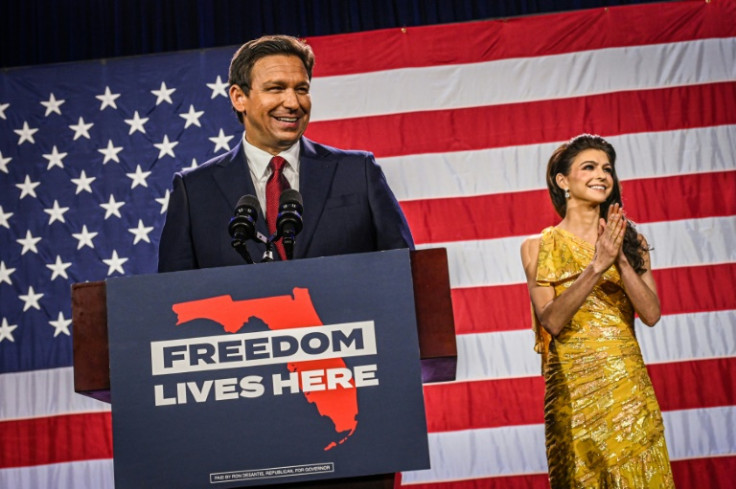 As the 2024 presidential race fast approaches, potential candidates for the position are promptly emerging. A prominent figure who has garnered significant attention for their decision to run is Ron DeSantis, the current Republican governor of Florida. Known for his conservative policies and approach to governance, DeSantis has generated both praise and criticism on various policy fronts.
DeSantis announced his presidential bid via a Twitter Space on May 24th, hosted by Elon Musk, with other notable figures such as entrepreneur David Sacks in attendance. Later that evening he posted his first Campaign video. In this video, DeSantis walks and stands in front of an American flag and announces his push for the presidency.
In the video DeSantis describes his view of the dire situation in the US, describing how "our border is a disaster; crime infests our cities and federal government makes it harder for families to make ends meet and the president flounders. But decline is a choice, success is attainable and freedom is worth fighting for. Writing the ship requires restoring sanity to our society, normally to our communities and integrity to our institutions. Truth must be our foundation and common sense can no longer be an uncommon virtue".
DeSantis finishes this speech by saying that he can be the "leader of our great American comeback", signalling the formation of his views that the failure of current democrats led by Joe Biden must be addressed.
DeSantis policies, positions and actions whilst governor
As the current Governor of Florida, Ron DeSantis' tenure has been marked by several controversial actions and decisions that have sparked intense debate and garnered criticism from various quarters.
One of the most prominent controversies surrounding DeSantis was his handling of the COVID-19 pandemic. He faced significant backlash for his resistance to implementing strict lockdown measures and his decision to prioritise reopening the economy. For instance, when the Centres for Disease Control and Prevention (CDC) recommended nationwide mask mandates, DeSantis refused to issue this policy statewide, instead leaving the decision to local governments. This approach drew criticism from public health experts and some residents who argued that it endangered public health and contributed to the spread of the virus.
This opinion was further exacerbated by his decision to double down and reopen all schools by August 2020 at the height of the pandemic. This resulted in Florida's largest teachers' union filing a lawsuit in July 2020 against DeSantis, subsequently suing him over his order for schools in Florida to open at least five days a week and to provide the full range of legally required services, including in-person education and services for students with special needs.
Moreover, DeSantis has been the subject of criticism whilst Governor for signing bills that placed restrictions on voting access. One such bill prohibited and reduced access to the use of drop boxes for absentee ballots and tightened identification requirements that mandated that voters must provide a driver's license number or the last four digits of their Social Security number when requesting a mail-in ballot. Furthermore, restricted access to mail-in voting which reduced the duration of time for requests, would be valid, further curbing the movement towards increased voter representation.
These controversies surrounding DeSantis's actions as Governor of Florida have raised concerns about public health, civil liberties, and equitable representation in the state, and concerns for further plans during potential presidency. This can be seen in his campaign video where he argued that "In Florida, we proved that it can be done. We chose facts over fear, education over indoctrination, Law and Order over rioting and disorder."
While supporters argue that his decisions were guided by a commitment to individual liberties and limited government intervention, critics maintain that they have had adverse consequences and undermined the principles of democracy and public health protection.
Each of these controversial actions has shaped the discourse around DeSantis's leadership and will continue to be a point of contention as his political career progresses.
DeSantis plans for the presidency
Whilst just in the early stages, DeSantis's plans for the presidency can already be seen in his tyranny against "wokeism". His blueprint for his campaign aims to make a play on the previous Republican president, Donald Trump's slogan "Make America Great Again", with DeSantis instead rationalising that Washington should "Make America Florida".
Thus, if translated to actual policies, this would manifest itself in far-right agendas that aim to enforce anti-immigration regulations, seeking to enact stricter laws that emphasise border security and crack down on illegal immigration.
Furthermore, on pressing issues in US politics such as abortion, DeSantis aligns himself with the pro-life movement and aims to restrict access to abortion. He supports measures such as enacting stricter regulations on abortion providers, implementing parental consent requirements, and potentially seeking to overturn or limit the scope of Roe v. Wade, the landmark Supreme Court case that legalised abortion nationwide.
DeSantis also opposes gun control on all accounts as he believes in defending American citizens' Second Amendment rights. He intends to oppose any efforts to restrict gun ownership or impose extra background checks, stating that law-abiding residents have the right to bear arms for self-defence and protection.
Thus, this plan for the presidency that champions conservatives' values by supporting far-right values whilst involving a strong emphasis on state sovereignty and limited federal intervention is something DeSantis seems to be steaming ahead with. His overall aim of reducing devolved power back to the states seems to be attractive to the same voters that supported the MAGA campaign in the 2016 election, with Trump's populist vision and clear depiction of white nationalism being again retold.
With his early manifesto yet to be fully announced, the prospective nature of how the 2024 US elections are going to play out is still to be questioned. However, some critics suggest DeSantis's policies are too extreme ever to be considered a legitimate presidential candidate. Similar notions were also expressed about Trump, making a future with DeSantis still plausible.
© Copyright IBTimes 2023. All rights reserved.