One year ago Donald Trump stunned America, the world and, by many accounts, himself, by winning the electoral college and becoming the president-elect of the United States. Having fought a campaign that was, and still is, mired in scandal and accusations, the argument still continues over whether Trump is was lucky, corrupt or a genius.
For those with an interest in advertising though, Trump's messaging was textbook. Loud, succinct and written right there in white letters on top of his head. As ubiquitous as Trump on cable news, there were few places in America that a bright red hat didn't take on the meaning of Trump.
"I don't know that I would say it was innovative but I think that it was strategic," Lynda Maddox, Professor of Marketing at George Washington University, told IBTimes UK. "I actually think that Trump's entire campaign was strategic... nothing particularly outstanding or innovative but they're very targeted and very simple and very pervasive and that was the hallmark of his entire campaign".
But as well as a messaging tool, the hat was primarily a symbol of Trump. When reports said the President had struck a deal over the DACA program, an Obama-era order that helped immigrants brought to the US as children to avoid deportation, betrayed Trump supporters burned the hat – because it didn't represent the right-wing ideals he'd espoused on the campaign trail, and thus it represented him.
As a simple symbol of the man himself, it also started to take on his personality – or how people saw his personality. Accusations of Trump's corruption and financial interest spilled over when he wore a hat sold by his campaign as he visited areas of Texas ravaged by Hurricane Harvey. What for some was a man wearing a cap, for others was a man "licensing the presidency", as one advocacy group put it to NPR.
Was he just another American with a fondness for caps? "Other than on the golf course, I doubt that Donald Trump ever wore a baseball hat," Maddox said, "but he did it all the time through the campaign because that was a way of signalling to his target audience that he was one of them, which of course couldn't be farther from the truth."
This attempt to relate to the American everyman also explains some of intelligentsia vitriol towards him too, Maddox says. Some may say that Trump is boorish "but the bottom line is that they probably wouldn't like many of his target market".
There's someone else who manages to pull this off: Oprah. "[Winfrey] really signals to people that she's one of them when in reality she's richer than all of them together".
The hat is Trump's costume, it communicates 'I'm one of you, I care about you'. The message printed at the top is simple: Make America Great Again. It's vivacious red and it's sending a message that things can be better.
Trump didn't invent merchandising, of course, Barack Obama rolled to power on a sea of posters and T-shirts proclaiming 'HOPE', but one pertinent difference is that Trump wore it. Did you ever see a picture of Obama wearing a 'Yes, We Can' hoodie? Or Hillary Clinton, Trump's rival, in an 'I'm with her' jumper? Trump, on the other hand, wore the hat constantly on the campaign.
The merchandise was popular too. How much the campaign made from merchandise is hard to tell. IBTimes UK asked the Federal Election Commission, which publishes campaign finance data, but was told that methods of contribution raising weren't something campaigns were required to report.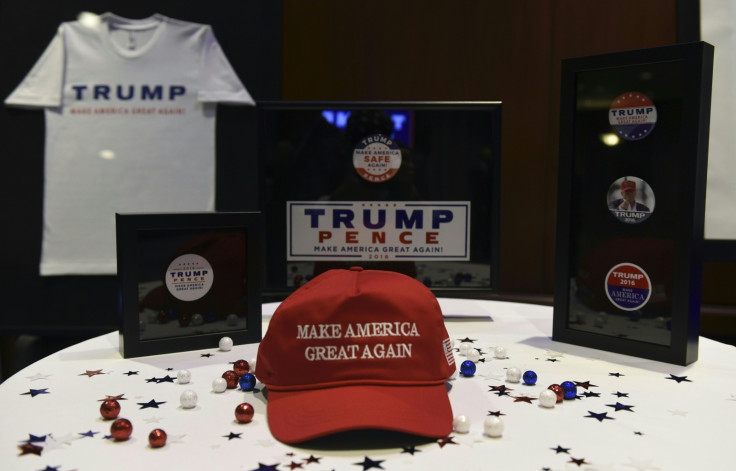 Was money really the driver? In August, Trump retweeted a Twitter account with the handle @protrump45 - one that was soon accused of being a bot account pushing pro-Trump messages and advertising a site selling pro-Trump merchandise. Trump's retweet still exists, but the account was quickly suspended.
"All signs point to Trump thanking an advertising campaign using fake Trump supporter accounts to sell #ProTrump45 brand clothes," researcher Eliot Higgins wrote at the time.
Though the account was suspended, the site selling merchandise is still live – though according to one Yahoo report, an order of the merchandise is unlikely to ever arrive. On the site itself, several images bare the watermark of Customink.com, a site that allows people to order clothes branded with their own custom designs.
A spokesperson for customink.com told IBTimes UK that protrump45.com may have made an order before but they could not give out customer information. However, but the site definitely was not linked in a way that would mean customink was fulfilling orders as they came through. Not only that, but the images are being used without authorisation. CustomInk said its legal team was reviewing the situation, but has not provided further updates.
A message to protrump45.com did not get a response. Even if they might be sapping some money, these kinds of third-party sellers (if they ever did sell anything) only work in the Trump campaign's favour.
There are people that did not like Trump in the first place and "there's no chance of them ever converting", Maddox says. "But there are people out there, more people than you might imagine, who don't have any real strong opinions."
For these people, seeing Trump everywhere, whether that's on TV shows, news sites or represented by a hat, proves that he's a big deal. "It just ferments the idea of Trump being a powerhouse," Maddox says, "because after all he's just everywhere."