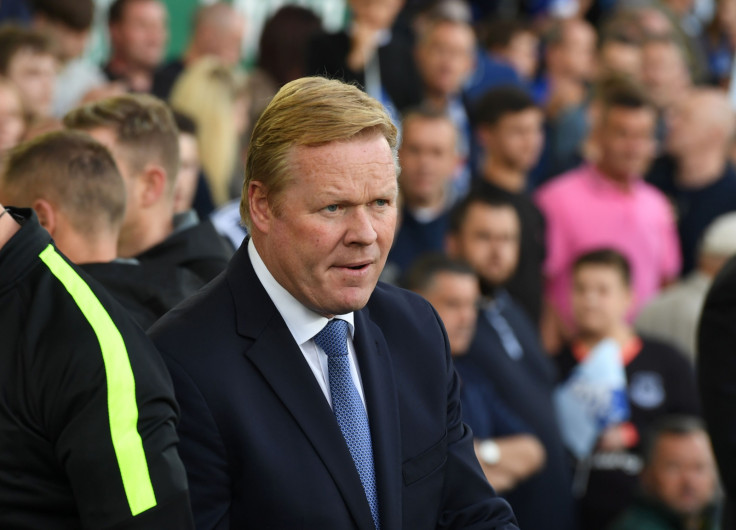 Everton manager Ronald Koeman is best suited to replacing Arsene Wenger at Arsenal when the French coach opts to leave The Emirates Stadium.
Wenger is yet to declare whether he will sign a contract extension beyond the current campaign – his 20th with the north London club – yet the debate is raging over who will be recruited to step into his shoes.
The Gunners have long been linked with a move for Koeman in recent months as they brace for the departure of Wenger after two decades with the club.
The Sun have previously claimed that Koeman has been identified as the chief contender to take over in the future at the 13-time FA Cup winners.
Koeman enjoyed a successful two seasons with Southampton, who haemorrhaged their best players during his reign in charge, and has shown signs of being able to replicate that with new club Everton. The 53-year-old has taken 13 points from the first five Premier League games and has shown he is ideal for Arsenal according to former striker Charlie Nicholas.
"There's a shrewdness about Koeman – he doesn't complicate himself. Once he's made his decision it's all in. I just love his whole approach," Nicholas told Sky Sports. "I've said it before – if I was Arsenal and [Arsene] Wenger is ready to go, he would be the number one target for me."
Wenger signed a three-year deal in May 2014 and is yet to enter into talks over a fresh deal. The 66-year-old denied last season that he has been offered another contract and revealed that any discussions over an extension would be delayed until the twilight of the 2016-17 campaign.
"The players are like me – they are professional," the Arsenal man said, according to The Guardian. "To be professional is to give your best as long as you have the contract. If it is for one penny or £200m, it is exactly the same.
"When I sign a contract and I agree the money that I work for, I will give my best until the last minute of the season. I never renegotiated any contract that I signed because that is the way I have behaved my whole life.
"It's not about me, it's about the club. My role is just to serve the club as well as I can and after see where I stand and where the club is. I have to forget about myself even if people who want to create unrest don't. I will continue to give my absolute best to do well next season and then after that, we'll see."