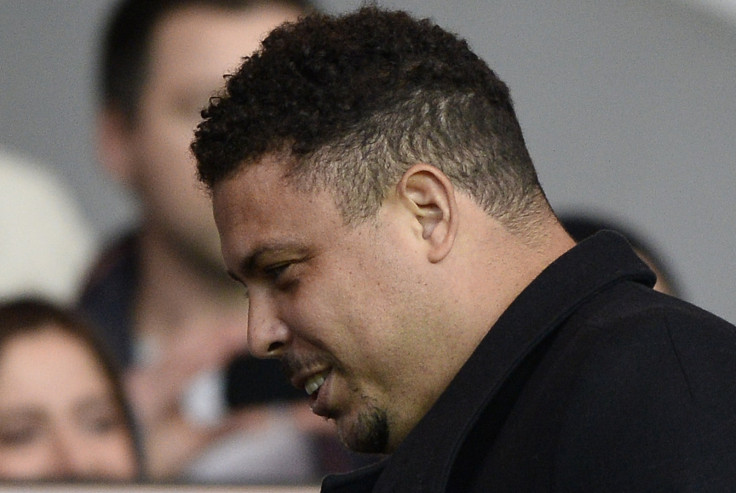 Waistband and hairdresser troubling Brazil striker Ronaldo is to stage a surprise return to football with United States second tier club Fort Lauderdale Strikers.
Four years on from his retirement from the sport, Ronaldo – the recently usurped highest scorer in World Cup history – will attempt to get in sufficient shape in order to play for the club with whom he is now a minority owner.
The 38-year-old's at best dilapidated physique means Ronaldo threatens to enter an elite list of tragic and desperate sporting comebacks and cast a shadow over his reputation as one of the finest players in the history of the modern game.
Ronaldo could keep company with the likes of basketball star Michael Jordan, boxer Muhammad Ali and disgraced cyclist Lance Armstrong, who are among a select group of sportspeople who could not resist another moment of indulgence.
But who faces the ignominy of being included in IBTimes UK's hall of shame?
Ben Johnson
Suspended under dubious circumstances after being found guilty of doping on his way to winning the 100m at the 1988 Olympic Games, Johnson's comeback was bathed in further embarrassment and failure.
After two years away from the sport, he returned to sprinting but failed to qualify for the World Championships before at the Barcelona Olympics in 1992, he stumbled in the blocks in the semi-final and finished last.
The Canadian then failed drugs tests in both 1993 and 1999 to end his association with the sport.
Bjorn Borg
Ten years on from his last grand slam singles title, Borg staged what would become among the most infamous sporting comebacks. Playing with long flowing hair, which was only overshadowed by the bizarre decision to play with a wooden racket amid the inception of graphite rackets, Borg's return was hopeless. He lost all 12 of his comeback matches, failing to win a set in any of his first nine before a loss to Alexander Volkov ended his pro-career.
Ian Thorpe
With five Olympic golds to his name, three of which came on home turf in Sydney on 2000, the opportunity to compete at London 2012 was too good a chance to turn down for Thorpe, who announced his intention to swim in the English capital in February 2011.
But at the Australian trials, Thorpe floundered, failing to qualify for the final of either the 100m or 200m. "The fairy-tale has turned into a nightmare," he told reporters. Just about right for Australia's swimming sweetheart.
Michael Schumacher
Arguably the finest driver in Formula 1 history, Schumacher spent just a year out of the sport before returning to spearhead the new Mercedes team alongside fellow German Nico Rosberg. On paper it looked like a match made in heaven but in practice the seven-time world champion had lost his insatiable desire for success. Not a single win, let alone podium came his way in his three seasons with the team ,while Rosberg consistently outperformed his opponent.
Ricky Hatton
After receiving treatment for drinking, drug abuse and depression, Hatton – once the stellar name of British boxing – announced his return to the ring in 2012 and after slimming down and rediscovering his ferocious intensity confirmed he would fight Ukrainian Vyacheslav Senchenko.
The daunting proposition was made all the more unnerving after tickets for the bout sold out in two days when Hatton's opponent was not even known. Though expectation was rife, Hatton was in way over his head and was knocked out in the ninth round in Manchester.