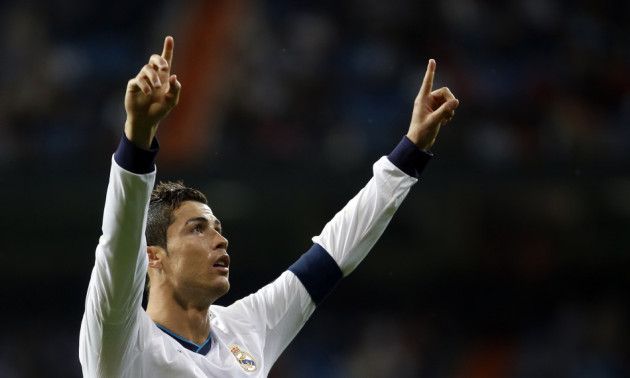 Real Madrid president Florentino Perez has attempted to resolve Cristiano Ronaldo's future by claiming the former Ballon d'Or winner will remain at the Bernabeu for the rest of his career - seemingly ending Manchester United's hopes of re-signing the winger.
Ronaldo has made no secret of his affection for the club where he spent six years as a player from 2003-2009, but has fallen short of declaring his intention to return to Old Trafford.
Despite having yet to agree an extension to his current Madrid contract, which expires in June 2015, Perez has moved to quash rumours that United may try to tempt the Portuguese international back to the Premier League by suggesting Ronaldo will see out the remainder of his playing career in the Spanish Capital.
"You can be absolutely certain that Cristiano will retire at Real Madrid," Perez said.
The 28 year old has scored 201 goals in 199 appearances for Madrid but has won just two major trophies during his four years in Spanish football, with Barcelona, spearheaded by four-time world player of the year Lionel Messi, overshadowing Ronaldo's achievements.
The ex-Sporting Lisbon starlet earned hero status while at United, winning three league titles and the Champions League among eight major honours, while he was also voted the world player of the year in 2008.
Last week, despite previously rejecting claims a new contract had been negotiated, Ronaldo declared he was content with his career in La Liga; seemingly dismissing any chance of returning to United in the near future.
"I miss English football," Ronaldo admitted. "For me, it was one of the best years in my career when I was there in Manchester United. Everyone knows that it is a club that is still in my heart and I really, really miss.
"But now my life is in Spain. I am enjoying playing there too.
"Part of my life is there, but in the future we never know. I am really, really happy in the Spanish league."
The latest revelation from Perez may be merely a public statement of intent over Madrid's intention to offer Ronaldo a new contract, but nevertheless it should relinquish the pressure on new United boss David Moyes to bring the prodigal son back to Manchester.
Moyes officially began his tenure at United last week, and while he has made wholesale changes to his backroom team, installing both Phil Neville and Ryan Giggs as coaches, the Scot is yet to make a foray into the transfer market.
But when questioned regarding a potential move for Ronaldo, Moyes said the club's transfer policy was unlikely to change.
"I would never speak about players at other clubs," Moyes said. "That's not my style. When people have contracts at other clubs it's wrong to speak about them. But this club is always interested in the best players.
"United had a great season in the Premier League last year and we'll do everything we can to add to the squad. This club will always go after the best players and we'll do what we can to remain at the top.
"I'll try [to sign players before pre-season] but I couldn't honestly say yes. Time is closing in on me now," he added.
"The way the window works, I think the deals may be done a little later this season. There are a few new managers so I don't think everything will be done right away."