The allegations of sexual assault and rape in the entertainment industry over recenmonths has sparked a problematic debate: is it okay to still enjoy work created by abusers?
While many people are divided and differing in their opinions, there is now a website to help those who want to boycott the products of alleged abusers.
Rotten Apples is a play on the popular TV and movie review site Rotten Tomatoes, and gives ratings such as "fresh apples" or "rotten apples" based on whether the actors have faced allegations of abuse. By typing House of Cards in for example, the site showcases "Kevin Spacey" and links to an article outlining the allegations made against him.
Upon typing in Netflix's popular series The Crown, here is what is shown: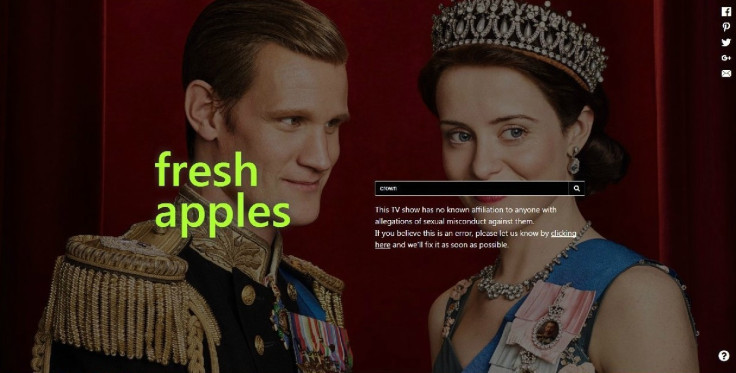 The site said: "This TV show has no known affiliation to anyone with allegations of sexual misconduct against them.If you believe this is an error, please let us know by clicking here and we'll fix it as soon as possible."
It was reported last Thursday that Netflix would scrap two episodes of House of Cards' new series starring Kevin Spacey. The streaming website announced the series would resume filming without Spacey and be led by co-star Robin Wright instead.
Over the last few months, Spacey was issued with multiple accusations of sexual misconduct, assault and harassment, including allegations made by crew on the Netflix show.
Spacey initially apologised for the first allegation made by Anthony Rapp and claimed he could not remember the incident and then went on to come out as gay for the first time. He has denied an anonymous claim and then refused to comment on the remaining accusations.