The controversial views of Alabama's Republican Senate nominee Roy Moore on evolution, Islam and homosexuality are well publicised, and now a Nazi quote has also surfaced from a previous radio interview.
Moore once said that "homosexual conduct should be illegal" and branded Islam "a false religion". He recently told The Washington Post: "There is no such thing as evolution. That we came from a snake? No, I don't believe that."
At a campaign rally in September, Moore responded to a black member of the audience who asked him when he last considered America great. He responded: "I think it was great at the time when families were united — even though we had slavery — they cared for one another. Our families were strong, our country had a direction."
Even more contentious comments buttressed with quotes attributed to the Nazi leader have surfaced just days before Moore faces off against Democrat Doug Jones in the conservative state's Senate elections on Tuesday (12 December).
President Donald Trump has endorsed Moore as the senate candidate, calling him a "fighter".
CNN released audio files on Sunday (10 December) from a 2011 radio interview in which Moore is heard citing Hitler and telling the hosts he would be "interested in new hearings into what really happened on 9/11".
Moore was a leading voice in the birther movement, which promotes the view that Barack Obama was not born in the United States, a conspiracy theory that has been debunked numerous times over.
During his 2011 appearance on the "Aroostook Watchmen" programme, Moore cited a quote which is attributed to Adolf Hitler when discussing Obama's birth certificate.
When the radio host suggested that Obama's documentation would not allow him on a US submarine, Moore said: "Well that's, that's a problem. You know Hitler once said, 'you tell a big enough lie long enough, people to believe it.' And that's that's the problem.
"We've got to look at simple facts of the case, and we need to recognise we need a new administration in Washington. And it just doesn't, based upon party, we need like people that uphold the Constitution not undermine it," he added.
The quote Moore cited is in fact attributed to Joseph Goebbels, Hitler's propaganda minister in Nazi Germany, although even this attribution is questionable. It stems from the 'Big Lie' propaganda technique which Hitler used to blame the Jews for all of Germany's problems.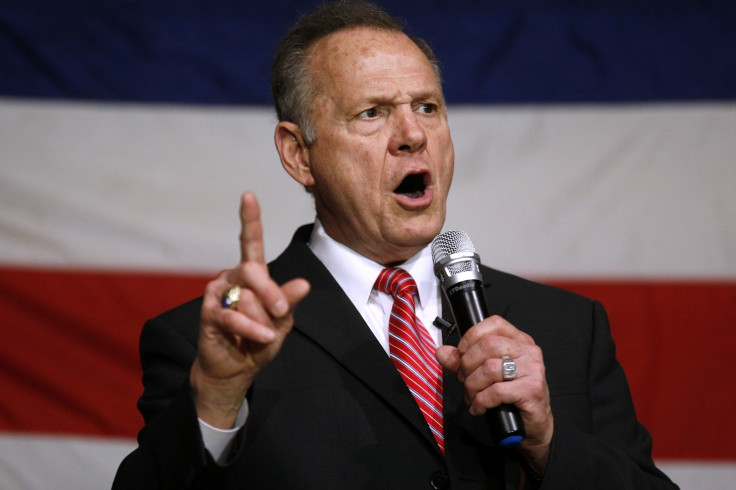 In the interview, Moore also said that getting rid of constitutional amendments after the 10th Amendment would "eliminate many problems" for the US. These amendments include the abolition of slavery (13th) and women's right to vote (19th).
A spokesperson for Moore's campaign told CNN that the comments had been misinterpreted. "Once again, the media is taking a discussion about the overall framework for the separation of powers as laid out in the constitution to twist Roy Moore's position on specific issues," he said.
"Roy Moore does not now nor has he ever favoured limiting an individual's right to vote, and as a judge, he was noted for his fairness and for being a champion of civil rights," he added.