Rovio - the creators of Angry Birds - has released Amazing Alex, a problem-solving game that is the developer's first new gaming franchise since 2009.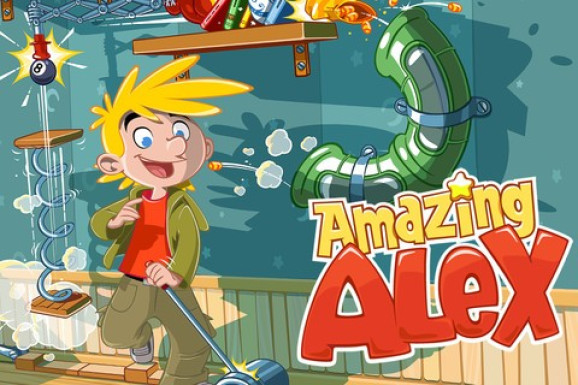 Comprising of 100 levels, Amazing Alex is a puzzle game where players have to arrange objects in such a way that causes a chain reaction to complete a task - such as placing objects to direct a falling football into a basket.
Rovio says: "Amazing Alex has a set of 35 fully interactive objects just waiting to be set in motion. Fans can set the objects up to bounce, pop, ricochet, bash, and crash into each other and create an elaborate Rube Goldberg device.
"With a houseful of toys to play with, there's more than one right answer. Fans can share their most creative solutions with friends and see what they came up with. With 100 challenging levels across four fun-filled locations, there's a whole world of creations to explore."
Amazing Alex is available for iPhone and iPad on the iOS App Store, Google Play Store and Amazon Appstore for Android.
Rovio is pricing Amazing Alex at 69p for iPhone, £1.99 for the HD iPad version and 64p on Google Play, while there is also a free version for Android, too. The game costs $0.99 in the US for Kindle Fire users.
The Finnish company confirmed on Twitter that versions of the game for PC, Mac and Windows Phone would be available soon.
Amazing Alex began life as Casey's Contraptions, a physics-based game released in 2011 where players had to help the lead character free their toys, but the game never became a hit and developer Mystery Coconut sold the intellectual property rights to Rovio in early 2012.
Rovio told gaming website IGN that it will continue to work on its Angry Birds franchise alongside Amazing Alex, stating that it has teamed up with Activision to release the first three Angry Birds games as a bundled package for the Xbox 360, PlayStation3 and Nintendo 3DS later this year.
After the phenomenal success of Angry Birds and the franchise it created, we will be interested to see if Rovio can perform the same trick again and take Amazing Alex from a humble smartphone game to hugely successful brand.
Download links