Rovio is looking to leverage the popularity of the Angry Bird brand with the new Angry Birds Go! racing game.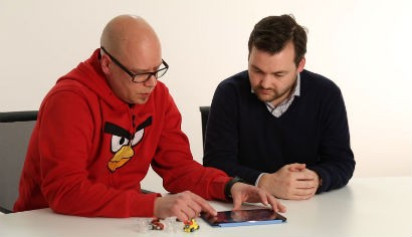 Not many people know Rovio, but hundreds of millions of people know Rovio's Angry Birds brand.
This is the reason that the Finnish smartphone maker has decided that launching a new Angry Birds game was a better idea than launching a completely new IP.
Angry Birds Go!, a Mario Kart-style racing game launched globally on 11 December, and will look to leverage the popularity of the furry characters known around the world.
The figures back this belief up - the games have been downloaded more than two billion times; the cartoon series has been viewed more than a billion times and Rovio now has a catalogue of over 30,000 individual pieces of merchandise - generating almost 50% of the companies revenue.
New Types of Angry Birds games
Jami Laes, the head of gaming at Rovio, says that we can expect new types of games featuring the same cast of characters in the coming years, rather than simply producing a Star Wars version of Go!, a tactic which has previously been very successful for Rovio:
"I think we are more interested in looking at different forms of games to provide diversity for our fans, whether it is Angry Birds or whether it is a new IP for that matter. Angry Birds is the bedrock of the company but at the same time, there needs to be other things going forward as well."
Rovio has tried "other things" before, launching Amazing Alex in 2012 but it failed to achieve anywhere near the success of Angry Birds, possibly because it is just too difficult to emerge from under the wing of the Might Eagle.
Something Big
Laes doesn't believe the shadow of the Birds is a problem for any new game the company launches:
"I think it is a benefit that we have Angry Birds as a brand, so that we can leverage that and it brings a halo for anything else we do as a company."
Laes wouldn't be drawn on any specific plans for 2014, but teased that "something big" was on the horizon for the company.
Long haul
Finnish mobile gaming companies are on the up at the moment, with Supercell and Grand Cru joining Rovio among the hottest properties in the industry.
But these companies are not around to make a quick buck - despite Supercell reporting in April it was generating $2.5 million a day from just two iOS games - but they are around for the long haul:
"We are not building Rovio and the brands that we are building for 100 days, but for hundreds of years, we are always thinking of the long-term."
Disney of Finland
Rovio is no longer just a gaming company, it is an entertainment company. It has been dubbed the Disney of Finland, but instead of Mickey and Minnie, it has Red Bird, Blue Bird and Yellow Bird.
Angry Birds Go! is a major departure for Rovio and the Angry Birds franchise, being the first full-3D game, the first non-slingshot game and more importantly the first game which is following the freemium model.
While Supercell has achieved financial success with this model - where the game is free but the companies make money from in-app purchases - this was not the reason Rovio chose freemium:
"We are not only about money, first and foremost what we always think about is, how do we delight the fans," Laes said, adding that it offers a way of reaching a much wider audience.