England manager Roy Hodgson says Arsenal defender Carl Jenkinson will be called into the squad to face Sweden next week only after they receive clearance from Fifa.
Jenkinson has played for both the England Under-17 and Finland Under-21 sides, but having not made a full international appearance is still eligible to represent either country.
And having made himself available for England, after training with the squad prior to the World Cup qualifier with Poland, Hodgson is confident of achieving international clearance for the 20 year old.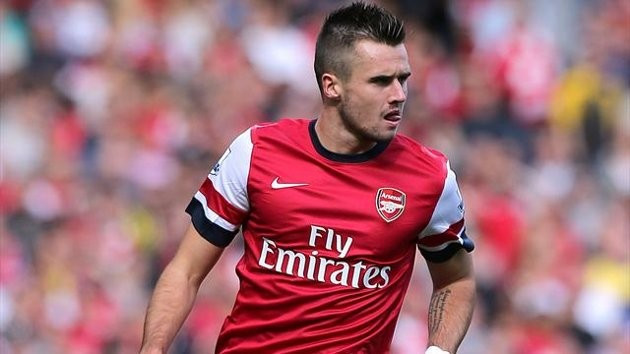 "The reason I didn't include Carl from the start is because we haven't, at this moment in time, got clearance from FIFA but we do believe that they are going to grant that clearance within a day or two," Hodgson said.
"So by next Wednesday, he will be clear to play. He wants to play for England and has made that clear so we applied for permission to FIFA, as one is allowed to do, immediately after he left us and before we set off for Poland.
"That was a month ago, but I didn't want to put his name down in a squad until such time as I've got FIFA clearance saying he's available to play for us in my hand.
"If the clearance comes through, we will put him in the squad. He was with us for training just before we left for Poland and I made it clear to him then that if he did want to play for England, I would include him in this squad and I intend to keep that promise."
Amid the early season injury to regular right-back Bacary Sagna, Jenkinson started Arsenal first eight games of the season, helping them to the best defensive record in the Premier League and successive clean sheets in the open three games of the season.
With an English father and a Finnish mother, Jenkinson has opted to play for both countries youth sides, his most recent appearance coming in an Under-21 qualifying match against Malta in June 2011.
The Arsenal defender moved to The Emirates Stadium from Charlton Athletic in the summer of 2011, and after a peripheral role last season appears likely to make a lasting impact in the current campaign.