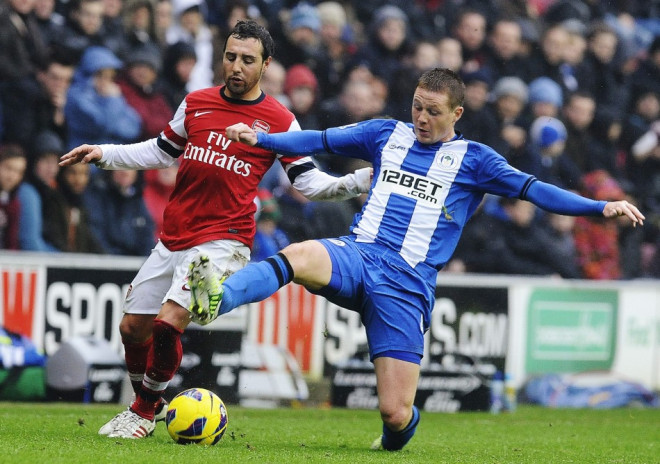 Former Manchester United midfielder Roy Keane has slammed Arsenal for celebrating after winning the semi-finals of the FA Cup against Wigan on penalties.
The ITV pundit, branded the celebration as unbecoming of a club like Arsenal. They were here to win trophies and should not have been carried away after berating a championship side on penalties, he said.
The Gunners have not won a trophy in over nine years and need to win their remaining six games to keep their hopes alive of finishing in the top four, and end the season on a high note with some silverware.
Arsenal failed to break down Wigan, who took the lead fifteen minutes into the second half through a penalty after a rash tackle from Per Mertesacker on Callum McManaman inside the penalty box. Jordi Gomez converted from the spot as the Gunners toiled to come back into the game.
The relentless pressure bore fruit in the 81st minute when Mertesacker got on to the end of a scuffed shot by Alex Oxlade-Chamberlain and headed home the equaliser.
The Gunners hit the post twice and went perilously close on a number of occasions but failed to find the back of the net. Extra time went on to penalties as Lukasz Fabianski stepped up to the job and saved two shots as the Gunners booked their entry at Wembley in a final for the first time since that unfortunate day in 2011 when they lost the League Cup to Birmingham.
However, the celebrations that ensued following the win did not impress Keane, who expects Arsenal to behave with more caution.
"These Arsenal players need a reality check. Last season they celebrated finishing fourth and now they celebrate beating a Championship side on penalties – we are talking about Arsenal FC here," Keane said.
"We have been critical that they have not been able to win ugly games and they have done that today. But to say they showed character? I have seen them enough times this year to say they have not done enough of that.
"They've beaten a Championship side in the semi-final on penalties.
"I think they need to relax a little bit and celebrate if they win the final," he concluded.