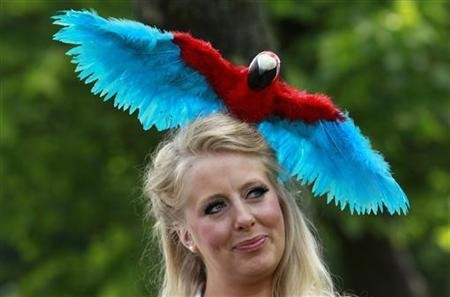 To guide and assist the nearly 300,000 horse racing and fashion fans who will attend the five-day Royal Ascot event starting June 19, the organisers have arranged for a team of special dress code assistants.
Royal Ascot is regarded as one of the most important events in the social calendar of Britain. Attended by royals, movie stars and members from every strata of the society, the event witnesses every individual united in their mission to dress their best.
However, due to frequent displays of outrageous fashion recently at the event, a tough dress code has been imposed by the organisers. The new dress code was first announced in January and reminders were sent out with badges and tickets.
To ensure that the code is followed strictly, the event organisers have arranged for the special team who will be on hand outside the course to assist racegoers who may have any issues with their attire. A selection of waistcoats, ties, pashminas and other items will be available at the turnstiles for those who need them.
"Ascot is Europe's flagship race meeting and one of the world's greatest sporting and social events. We have tried to provide an appropriate dress code that is clear, workable and in line with the wishes of racegoers," Charles Barnett, Ascot Chief Executive stated. "Over the last few months, a huge amount of planning has gone in to making sure that the implementation of the new code goes as smoothly as possible. During the meeting itself, our team of special dress code assistants will help people with any queries that they may have."
The main highlights of the fashion dress code include:
For ladies in the Royal Enclosure, dresses and skirts should be of modest length defined as falling just above the knee or longer.
In the Royal Enclosure, hats should be worn; a headpiece which has a base of 4 inches (10cm) or more in diameter is acceptable as an alternative to a hat.
For gentlemen in the Royal Enclosure, it is a requirement to wear either black or grey morning dress, which must include a waistcoat and tie (no cravats), a black or grey top hat and black shoes.
In Grandstand Admission, a hat, headpiece or fascinator should be worn by ladies at all times. Strapless or sheer strap dresses and tops are not permitted. Gentlemen are required to wear a suit and tie.