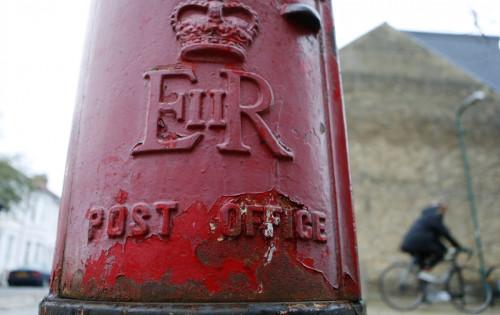 Royal Mail shares were little moved in early trading after the firm posted so-so results in a trading update for the nine months to the end of December despite the annual Christmas rush to send presents and cards.
Group like-for-like (LFL) revenue lifted 2% over the nine month period. Its UK parcels business reported an 8% rise in LFL revenue, though volumes were flat.
UK letters revenue dropped 3% on a LFL basis with a 5% drop in addressed letter volumes. Royal Mail's pan-European parcels business, GLS, saw LFL revenue rise 6% off the back of a 5% increase in volumes.
The firm was privatised by the UK government in a controversial October flotation onto the London Stock Exchange. Its share price soared in the following months, leading to criticism that ministers and their investment banking advisers seriously undervalued Royal Mail.
Joe Rundle, head of trading at ETX Capital, said the like-for-like sale figure is "certainly not strong enough to inspire long term positivity over the group".
"We have to remember that this update covers the Christmas period – the busiest for the firm. For that reason, questions about the sustainability of growth will come into question until the release of the full year numbers in May this year," he said.
"Difficult to be too optimistic on Royal Mail; need to hear from management on expansion plans, investment in infrastructure and resources together with international acquisitions.
"That being said, the update is not nasty enough to trigger a big correction in the share price which is 80% over the issue price the government sold it off for back in October 2013. If anything, it justifies the valuation still and will not silence the political controversy which surrounds it."
Royal Mail's full year results will be reported on 22 May.
"Our financial performance to date is in line with our expectations and gives us confidence that we will deliver against our key value drivers for the full year," said Moya Greene, chief executive of Royal Mail.
Shares were trading at at 588.00p on the London Stock Exchange at 08:44 GMT, unchanged on the day.