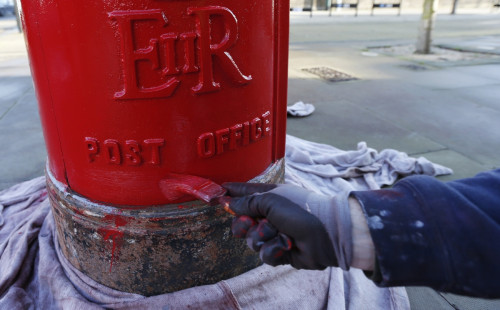 Royal Mail shares dipped by almost 3% after a research note from investment bank Cantor Fitzgerald said they are "no longer compelling" as an investment.
The communications firm was privatised by the UK government in October in a controversial flotation onto the London Stock Exchange. Royal Mail's share price rocketed to a peak of 607p, having floated at an offer price of 330p. On 7 January they hovered around the 559p mark.
Business Secretary Vince Cable and the banks advising on the IPO, including Goldman Sachs and UBS, have been heavily criticised on the charge they undervalued the firm and cost taxpayers billions in potential revenue from the sale.
However Cantor Fitzgerald set a sell rating and a target price of 500p on Royal Mail shares, despite a solid half year report from the firm at the end of November showing a sharp rise in profit. It is also modernising its operations to meet evolving consumer needs as the traditional letters market declines.
"Royal Mail has made good progress on restructuring, but still faces significant challenges," said Robin Byde, analyst at Cantor Fitzgerald, in his note.
"It has powerful brands, an unrivalled network in the UK and with GLS a leading pan-European parcel operator. However, core letter volumes continue to decline sharply and many other operators are fighting for share in the packets & parcels market.
"Costs are being contained and productivity is rising, but Royal Mail still needs to invest heavily in automation to lift service quality, efficiency and margins."
He concluded: "The many uncertainties around medium-term growth, costs-of-change and capex [capital expenditure] are reflected in the broad range of forecasts in the market. Following its spectacular post-IPO performance, Royal Mail's valuation and dividend yield are no longer compelling."
Goldman Sachs has a target 12-month price of 610p, despite one arm of its bank having advised the government that 330p was the most at which they could sell Royal Mail to institutional investors.
After releasing the note, the chairman of parliament's Business Select Committee, a group of MPs scrutinising the Royal Mail deal, said Goldman faces further questions over its advice to the government.
The bank had already faced one grilling by MPs on the committee in which it staunchly defended its work on the Royal Mail IPO.
"It confirms I think all the suspicions that between what the advisers were telling the government and what the advisers really felt was they potential of the company there was an enormous variation," Adrian Bailey MP, chairman of the committee, told IBTimes UK.
"You have to question why there is this analysis now and another analysis at a much lower price that they defended vigorously only just over a week ago. What's happened that's different and what information is different now than what they had before?"
He added: "Arising from this I think there are further questions that need to be asked."