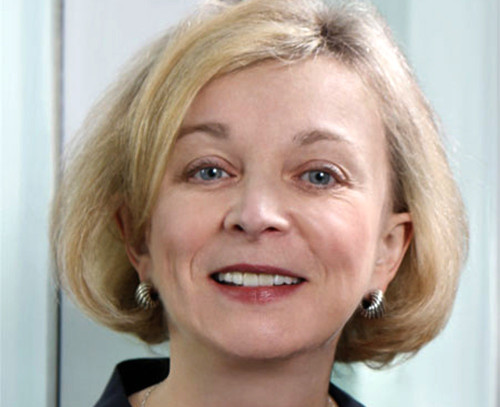 Royal Mail should pay Moya Greene a higher salary because she is the lowest paid chief executive in the FTSE 100, according to the communications firm's chairman.
Donald Brydon, who heads up newly privatised Royal Mail's executive board, said he thinks it's "only fair to pay Moya the right market rate for her job".
Greene pocketed a remuneration package worth £1.5m in the 2012/13 financial year, up from £1.1m in the previous period. Of that, £498,000 is a salary and the rest was made up with pension contributions, bonus payments and benefits such as medical insurance.
She handed back a £120,000 payment by Royal Mail to fund the Canadian's purchase of a house in the UK amid public uproar. Before tax, the payment was worth £250,000.
"I'm not in the school that says top executive pay is without fault, there are parts of it that are egregious and wrong," Brydon told The Telegraph.
"But happily we are so far away from that end of it that to try and right-size her a bit I think is a necessary part of making sure we keep her."
Dave Ward, deputy general secretary of the Communication Workers Union (CWU), warned Royal Mail to "be mindful of the gulf between the pay of senior staff and the lowest-paid employees, particularly as those on the lowest incomes are financially squeezed because of the increase in the cost of living."
He added: "The UK has one of the highest pay gaps in its private sector companies in the world and any steps towards addressing these inequalities instead of making them worse would be welcomed."
Royal Mail was floated onto the London Stock Exchange in a controversial sell-off by the British government.
Shares were initially sold at an offer price of 330p, but the price rocketed when trading began in October. At the time of publishing it sat at 601p.
Business Secretary Vince Cable, alongside his investment bank advisers UBS and Goldman Sachs, was accused of undervaluing Royal Mail and costing taxpayers billions of pounds in lost potential revenues.
Cable and the banks insisted they were told by the institutional investors targeted in the shares sale that they would walk away at any price above 330p.
He tried to blame an on-going labour relations issue between Royal Mail and the CWU for weighing on the offer price.
However the dispute has since been resolved with the CWU securing a 9% pay rise spread over three years for Royal Mail staff as well as several legally-binding agreements, including no further sell-offs of parts of the firm before 2019.
The government still has a 38% stake in Royal Mail. During the share offer 10% of the stock was allocated to employees to give them a direct financial stake in the business.